We've all been there: You follow a recipe to the T, pop your masterpiece in the oven and then... you have to tinker with timing to get it cooked properly. Not only is this incredibly annoying, but it's also a telltale sign that your oven isn't heating the way it should. The result? Anything from frustratingly burnt cookies to an underdone Thanksgiving turkey.
Luckily, there's a simple way to tell the true temperature of your oven: the humble oven thermometer. But not all oven thermometers are created equal. We put eight of the top products to the test and found that some do the job better than others when it comes to measuring temperature accurately—and also when it comes to smart design. The Admetior Oven Thermometer (available at Amazon) came out ahead of the pack, but there are other oven thermometers worth your consideration.
Read on to find which thermometers get the job done right, and which aren't worth a second look.
Updated January 05, 2018
Admetior Oven Thermometer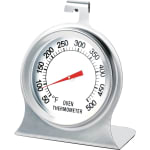 Admetior Oven Thermometer
Best overall
This is an efficient, straight-forward thermometer that meets right at the intersection of great functionality and visual appeal. The no-frills model reported temperatures with great accuracy and responded quickly to any changes in heat. A temperature gauge that starts at 50° F ensures that you can see the needle move even at room temperature. It's effortless to hang on the oven rack, and although the face is small, it's easy to read thanks to clear, bold print and distinct tick marks.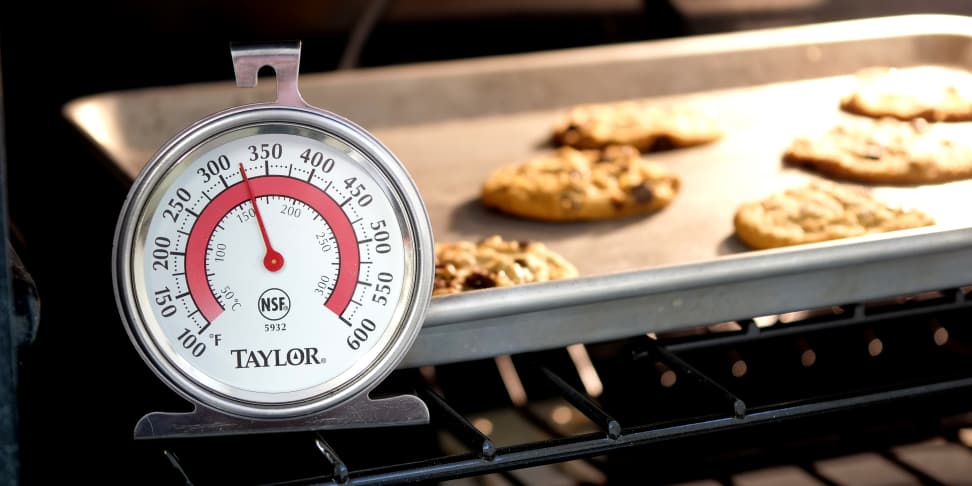 Taylor Large Dial Oven Thermometer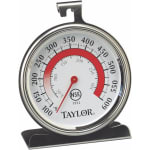 Taylor Large Dial Oven Thermometer
best value
This thermometer has one of the largest faces of the lot, with large tick marks and a gradated color wheel that makes it a breeze to read through an oven window. Beyond that, it has both front and side hanging orientation, as well as a stable base for standing, so that you can position it wherever and however you like. Though it wasn't the most responsive or accurate model we tested, its appealing aesthetics and inexpensive price make up for any shortcomings. If ease of use and a good value are most important to you, this is our recommendation.
Farberware Protek Classic Oven Thermometer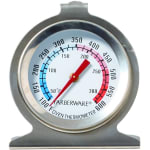 Farberware Protek Classic Oven Thermometer
This Farberware model blew competition out of the water with its ability to accurately report changing temperatures, but its appearance leaves something to be desired. While the color coding was nice (blue for cool, red for warm), the narrow numbers made it difficult to read when it's inside the oven. However, it was the most responsive to temperature changes out of all the thermometers we tested, so it may be worth the squint.
Polder Oven Thermometer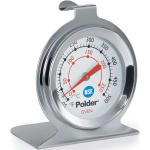 Polder Oven Thermometer
While this Polder is very accurate, it's not great at detecting changes in heat. This means that while you may initially get a precise read on your oven's temperature, you won't be terribly privy to variation in temperature. We found the face difficult to read, with very small type and a confusingly busy interface. This wasn't the best thermometer we tested by any means, but you could do worse.
Taylor TruTemp Thermometer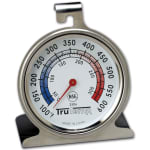 Taylor TruTemp Thermometer
The TruTemp is a fine middle-of-the-road pick. It's easy to read when it's in the oven, and the red/blue color dial helps with visibility. We found it moderately accurate and responsive when it came to detecting precise temperatures, and while the side hook didn't fit on our oven rack, the front hook and base stand worked fine. We could take it or leave it.
Rubbermaid Oven Thermometer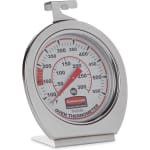 Rubbermaid Oven Thermometer
This product is visually cluttered; the tick marks are sized and spaced oddly, making it confusing to read. However, it proved fairly accurate at reporting temperature and was the most responsive thermometer of the bunch. If you plan to make a dish with a lot of temperature variation, this may be the best pick for you.
OXO Good Grips Oven Thermometer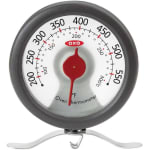 OXO Good Grips Oven Thermometer
Avoid
Sorry OXO, but we hated this one. As soon as we put it in the oven, it became extremely difficult to read due to a semi-opaque face that made the numbers hard to see. It couldn't stand in the oven and was tough to hang, continuously wobbling before settling in a crooked position. As far as performance goes, it proved wildly inaccurate and woefully unresponsive. Don't be fooled by the brand notoriety—just put this one back on the shelf.
CDN Pro Accurate Oven Thermometer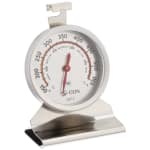 CDN Pro Accurate Oven Thermometer
Avoid
Stay away from this CDN thermometer. Not only did it flunk our accuracy tests, but it's also oddly tall, making it difficult to read when it's inside the oven. The temperature gauge doesn't begin until 150° F, so it's tough to discern where the needle is pointing while you're baking. Lastly, its side hook didn't even fit on our oven rack. With no major redeeming qualities, we'd recommend you stay away.