If you've never heard of a spiralizer, it does pretty much exactly what it sounds like it might: Cuts vegetables into long, spiraled ribbons. This provides noodle-esque options for those who can't (or don't want to, for whatever reason) opt for pasta.
But some spiralizers, like our favorite Veggetti spiralizer (available at Amazon for $9.99), perform much better than others. There are many types of compact handheld models, and bigger countertop hand-crank versions that look like old-fashioned apple peelers. We tested all of the market's best spiralizers to find the only ones worth buying.
Whether you're in the market for a countertop or handheld spiralizer, here are our top picks—and what to avoid.
Updated February 08, 2018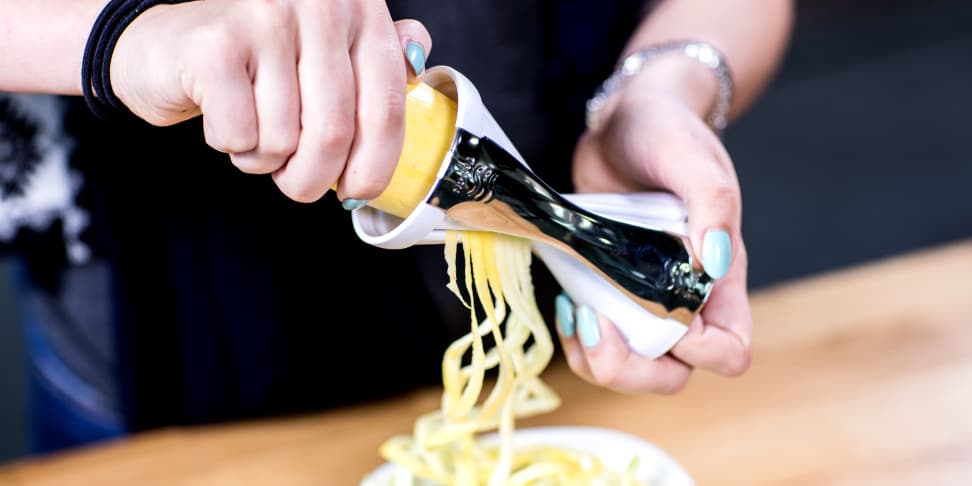 Veggetti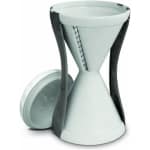 Veggetti
best overall
We were hesitant when we spied an "As Seen on TV" label on this product, but the truth is, it beats out the competition by a long shot. It's intuitive to use: Simply stick your vegetable in one of two ends, depending on your preferred "noodle" thickness, and twist for long, continuous ribbons. It is the only model that has an effective food holder cap that, when our vegetable was close to the end, allowed us to safely grind it down to the smallest of nubs.
The Veggetti comes with a little brush for easy cleaning and it feels more sturdy and better constructed than the similar Zoodle Slicer and Kitchen Supreme. Plus, at under $10, it's a no-brainer. This is our pick for handhelds, but if you're like us and hate doing dishes (particularly those with lots of razor-sharp blades), you'll like it even more than a cumbersome countertop version.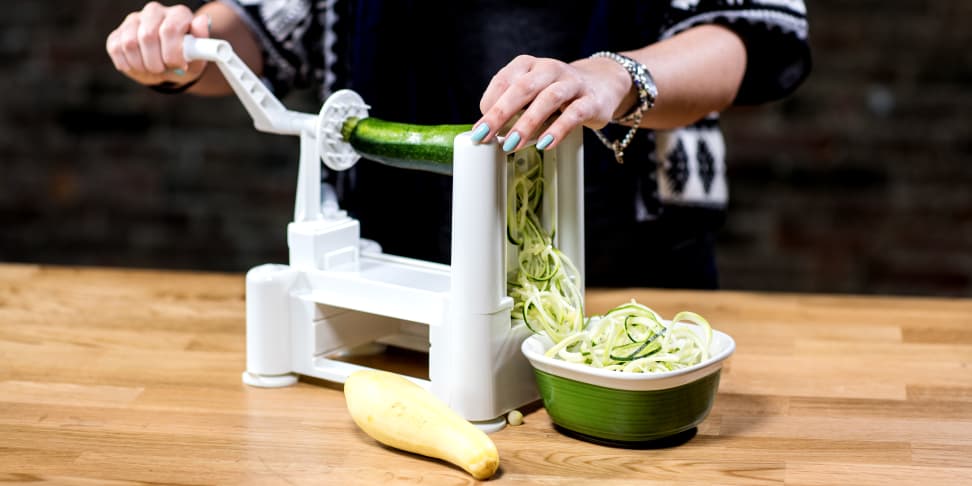 Paderno 4-Blade Spiralizer Pro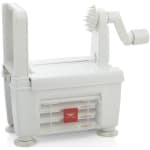 Paderno 4-Blade Spiralizer Pro
best countertop
If you plan to do a lot of spiralizing, you might want a hand-crank standing model. Yes, they take up a lot of space and are difficult to clean, but they do the job quicker than their handheld counterparts.
It's no surprise that the Paderno is the best countertop model: It has almost 9,000 reviews on Amazon and an average 4.5 star rating. It's easy to assemble, secures to the countertop well with four sturdy suction cups, and includes four easily changeable blades that cut different sized flat ribbons or spiral noodles. As you grind down the vegetable, a clever tray slides forward to catch shreds. Nonetheless, you'll still have to clean the whole thing after use, which is a pain—the blades shredded our dish scrubber.
On the bright side, we were able to get to the end of the vegetable in record speed and the Paderno's sturdy build and power make shredding even dense vegetables a breeze. If you're going to invest in a countertop version, we advise springing for the Paderno.
Zoodle Slicer ZS001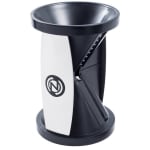 Zoodle Slicer ZS001
The Zoodle Slicer and the Kitchen Supreme Spiralizer are virtually identical, but the Zoodle pulls ahead for its slightly lower price point. This model has similar construction to the Veggetti, with two sides for different-sized shreds. The hourglass is definitely the most intuitive shape to use in spiralizing, but the difference here is that the construction and plastic both feel pretty shoddy, and we wouldn't expect it to last a long time or hold its own against hearty root veggies.
Worse, the food holder cap was completely unhelpful, and macerated the top of the vegetable instead of gripping and twisting it. We wound up using our fingers, which gets precarious the further you get down the vegetable. This is a fine handheld pick if you don't plan to do an awful lot of spiralizing, but we'd much sooner recommend the Veggetti, which is less expensive and works better.
Kitchen Supreme Spiralizer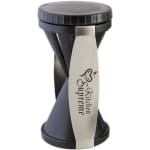 Kitchen Supreme Spiralizer
This Kitchen Supreme Spiralizer is essentially the same product as the Zoodle Slicer, but is slightly more expensive. It has two ends for different-sized shreds, but the construction and plastic both feel low-quality, and so don't expect it to last a long time or stand up to denser vegetables like sweet potatoes.
The food holder cap crushed the top of our vegetables instead of twisting it further down the blade, so we wound up using our fingers, which is not advisable if you want to stay cut-free. This is a fine handheld product for occasional spiralizing, but the Veggetti is a smarter buy: It's cheaper, sturdier, and has a cap that actually works.
Veggetti Pro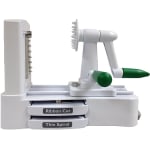 Veggetti Pro
This is one of the last countertop models we tested, and after a long day of playing Tetris with razor-sharp pieces, there was an audible "Thank God" uttered when we opened the box to see that this spiralizer comes completely assembled. Its four blades are stored within the product for easy stowing, and for the first time in a countertop version, the blade is actually lined up with the vegetable: Most position the vegetable hovering above the blade, leading to a lot of frustration and unevenly sliced veggies.
Unfortunately, the Veggetti Pro doesn't adhere to the counter and rocks back and forth with each turn of the crank. Worse, there's no easy place to put your non-cranking hand to stabilize the contraption, and you will inevitably wind up with vegetable ribbons on your table as there's no ergonomic answer to the question, "Where will my zoodles land?" The Veggetti Pro is not the easiest to use, but its simplicity was a welcome respite. If you're low on patience, this may be the countertop model for you.
OXO Good Grips 3 Blade Hand-Held Spiralizer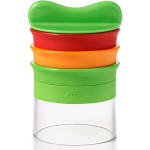 OXO Good Grips 3 Blade Hand-Held Spiralizer
This model was a little harder to use and more time consuming than other handheld options. It has three different blades for rIbbon cut, fettuccine cut, and spaghetti cut strands, and though it looks like a children's toy, we had to use the manual to figure out how to use it. Its layered design is a little confusing to figure out at first, and can be awkward to use since the vegetable doesn't fit flush in the opening.
What results are shorter "noodles" and a vegetable that is cut on a bias, leaving a substantial stub behind. Don't bother using the food holder cap for the end of the vegetable, because it doesn't do anything except destroy the top of the vegetable. Additionally, its flat bottom makes it tempting to rest the spiralizer on the counter, but because of the the cup's shallow depth, you have to move it after a couple turns. While it's nice that it comes apart for easy cleaning, we'd still advise against this model.
HomeHero Spiralizer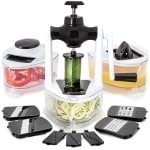 HomeHero Spiralizer
Update: This product appears to be discontinued.
The HomeHero claims to be a 9-in-1 product (spiralizer, juicer, and mandoline) and comes with four blades just for spiralizing, so while it's unsurprising that the box overflowed with least a dozen pieces, all of the parts made it tough to figure out assembly. It took a very careful read of the manual and a lot of examining of little plates and blades for us to finally piece it together.
When we finally did get it up and running, we weren't impressed. The height of this model only allows you to grate about four inches of vegetable at a time, meaning you have to cut your vegetable to size repeatedly. Additionally, the handle rotates as you churn, so it twists the skin on your hand, too. While it does grind the vegetable down pretty far and the product comes apart for easy cleaning, the pros don't outweigh the cons. Skip this complex version.
Brieftons Vertico Spiralizer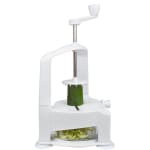 Brieftons Vertico Spiralizer
This Breifton left plenty to be desired. Like the HomeHero, the distance between the blade and the holder proved to be an issue. You can only grate about four inches of vegetable at a time, meaning you have to stop your process repeatedly to cut your vegetable to size and replace pieces. Additionally, its vertical design isn't as ergonomic or easy to use as a side crank like the Paderno.
On the plus side, it comes with four blades and its strong suction cups adhered to our countertop securely. However, construction aside, there was one huge problem: We couldn't get our vegetable to line up with the blades, which resulted in very thick slices instead of the signature spirals you expect in a spiralizer. That being said, what's the point of investing in this spiralizer?
Spiralizer Vegetable Slicer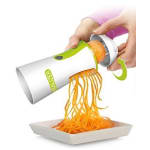 Spiralizer Vegetable Slicer
This model started as a favorite, but wound up being the least impressive handheld model we tested. It feels higher quality than its two-bladed hourglass comrades, but just doesn't work as well.
At first, it's not easy to tell how to switch the blades, and halfway through our zucchini, the blade became clogged so badly that we had to stop to clean it because the vegetable was becoming smashed and shredded. There were big inconsistencies between the first cuts and last. While this model is a bit easier to clean since it comes apart, it's our last pick for handheld models.
Müeller Spiral-Ultra 4-Blade Spiralizer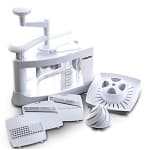 Müeller Spiral-Ultra 4-Blade Spiralizer
Avoid
This upright model was relatively easy to assemble, but a nightmare to use. We couldn't keep the vegetable in place, and when it was on the the spit, it didn't line up with the blades, even when we rotated the blade 180º per the manual. By the time we realized we'd have to rotate the vegetable by hand to get any spirals, we realized that this Mueller is more effort than it's worth.