ovens
Electrolux EI30GF35JS 30-Inch Freestanding Gas Range Review
Hot burners, cool design
$1,499.00 MSRP
The Electrolux EI30GF35JS (MSRP $1,549) is a freestanding range from the Swedish appliance giant. Priced above entry-level, the EI30GF35JS is meant for a slightly more discerning consumer, and this oven seems to justify what you'll spend on it—especially if you get it on sale. We found the burner performance to be pretty consistent with most gas ranges, the preheat was blisteringly fast, and general oven performance more than made up for some less than ideal accuracy and precision scores.
Design & Usability
Contemporary design for those who want a dash of technology
The Electrolux EI30GF35JS is definitely designed for a particular kind of consumer. While the stainless trim and attractive blue interior are certainly classic, the myriad of buttons and unique grates are a clear departure from a utilitarian, restaurant-inspired range.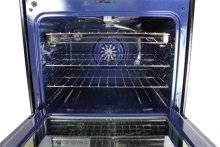 Now, there are many apocryphal reasons given for benefits of a blue oven interior, ranging from improved cooking performance to blue being the favorite color of a designer at an oven manufacturer. Ultimately, the justification is simply that a deep blue looks quite good.
Electrolux has clearly put a lot of thought into the user experience if the EI30GF35JS is any indication. From the sturdy rangetop controls, to the exhaustive oven and broiler settings, to the Luxury-Glide oven rack, this is an oven designed to make the process of cooking as painless as possible. The ease-of-use factor is enhanced by the welcome addition of Electrolux's IQ touch controls, which highlight only available options depending on the cooking modes selected. It's a minor addition, but it makes the world of difference.
Rangetop
No surprises here…
As is so often the case with gas, the EI30GF35JS's good boiling performance and responsiveness is offset by a limited range of temperatures. Boiling was for the most part excellent, though you may want to stick to the primary burner for your pasta cooking needs as it was fastest.
Boiling performance was excellent.
It's pretty much an accepted truth at this point that gas rangetops offer a high level of control exceeded only by induction cooktops. As a trade-off, unlike induction and electric cooktops, gas provides a comparatively narrow temperature range, and the EI30GF35JS is no exception. While the maximum high temperature of 489ºF is above average, we were a little disappointed with the minimum temperature of 122ºF. You'll still be bringing out the double boiler if you're making chocolate or delicate sauces.
Comparable Products
Before you buy the Electrolux EI30GF35JS, take a look at these other ranges.
Oven, Broiler, & Convection
Preheat aside, the EI30GF35JS's oven performance wasn't remarkable.
The EI30GF35JS is no slouch in the preheating department. The oven only took eight minutes to reach temperature; unfortunately the broiler was less impressive. But we never expect much from oven broilers in the first place.
Of the three oven settings we tested only the Keep Warm setting provided a good mix of accuracy and precision.
Of the three oven settings we tested, the Keep Warm setting provided the best mix of accuracy and precision. Our thermocouples showed that the 350ºF setting, while precise, had a great deal of difficulty maintaining a consistent temperature. Meanwhile the convection setting—often a boon to oven precision—didn't do this Electrolux any favors.
With real food in the oven, we noticed some minor inconsistencies in heat distribution, specifically around the left portion of the oven. So assuming you don't pack your oven to full capacity, you shouldn't have any issues with the EI30GF35JS.
Conclusion
It may not be the best, but you could do far worse.
Whether you should purchase the EI30GF35JS really depends on your cooking habits. Is convenience paramount? Do you value speed over accuracy? If so, you may want to give this oven range some serious consideration. However, if you find yourself experimenting with new recipes and you've got a well thumbed copy of Mastering the Art of French Cooking, you may do better with something simpler.
Though it's not for every kitchen, the Electrolux EI30GF35JS is by no means a bad range. In fact, we'd be willing to bet that its fast preheat, quick boil, and informative controls are just what many Americans want. Most people could overlook some occasionally spotty oven performance, but those looking for the absolute best should look elsewhere. And those looking for the likes of the EI30GF35JS should search for a sale price.
Our editors review and recommend products to help you buy the stuff you need. If you make a purchase by clicking one of our links, we may earn a small share of the revenue. Our picks and opinions are independent from any business incentives.