Haier HCI930SBSS Rangetop First Impression Review
A two-dimensional induction rangetop from a newcomer to the American market.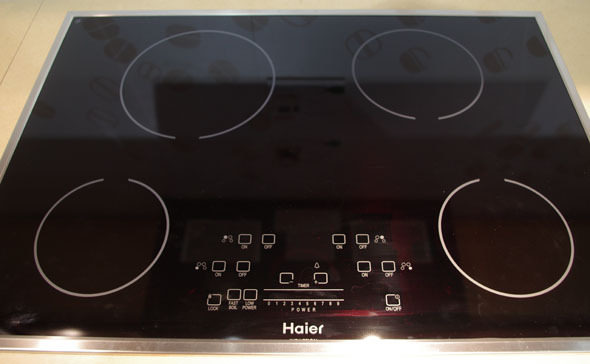 Design & Usability
A smoothtop design with touch controls.
The Haier HCI930SBSS looks like a combination of the past and present. While the most advanced induction cooktops allow chefs to put their pots and pans anywhere on the cooking surface, the Haier has demarcated burners and a rather old-fashioned display. Illuminated, the red LEDs do look nice against the completely black rangetop, though.
We observed someone cooking with the Haier HCI930SBSS and found the glossy screen got mucked up pretty fast, though that is pretty standard for an electric smooth-top.
Features & Performance
The perks of induction are the Haier HCI930SBSS's most important feature.
Besides induction's reputation for blending the best of gas control and electric temperature range, induction offers a little more wiggle room to innovate.
Two features stand out as the most impressive, and they are both safety features. The pan detection ability—not unusual for induction—makes this a much safer rangetop, as it will turn off if not being used. The other feature is just a product of induction's nature: the fact that the surface doesn't heat up. In fact, you can boil water with a paper towel between an induction rangetop and pan without burning it. We think this is cool. However, there are few features outside of the typical induction offering: no boil-over prevention, bridge elements, or other things beyond our imagination.
Conclusion
This is one of the most unobtrusive rangetops we've ever seen.
By only offering their first built-in cooktop with induction technology, Haier is making a big statement: they're ready to compete at the high end, and they want to make induction available to the masses. If it plays out well, and Haier sells it at a low enough price, cooking with magnets could become quite commonplace, and Haier would be quite well-positioned.
Performance-wise we imagine this machine will have the typical advantages of induction, though we can't really say until it's in our labs. On the downside, it doesn't have any new technology, but—to be fair—neither do the majority of rangetops and ranges that we typically see. For the HCI930SBSS our only fear is that this product will be priced too high for the average consumer. That's a common problem with induction, and part of the reason it hasn't caught on.
Fortunately, Haier's investment in the technology is further proof that induction appears to be superior to the alternatives across the board when it comes to performance, safety, and maintenance. Hopefully as this catches on and prices drop, the induction range will enjoy a larger portion of the market as it does in other parts of the world.
Be in the know! Get Reviewed.com news and reviews straight to your inbox.
Thanks for signing up!