Thanksgiving is stressful. No amount of holiday television, warm cider, or apple pie is going to change that. Add the tricky business of cooking for picky eaters, and you may be wondering how on earth you're going to pull off a dinner that is not only beautiful but delicious—to everyone.
Whether you're dealing with kids who refuse to eat anything other than chicken nuggets, people who dislike anything green, or those with special dietary needs, there are solutions that will keep everyone sane on Turkey Day.
So fear not! Here are some pro-tips on how to make Thanksgiving a success.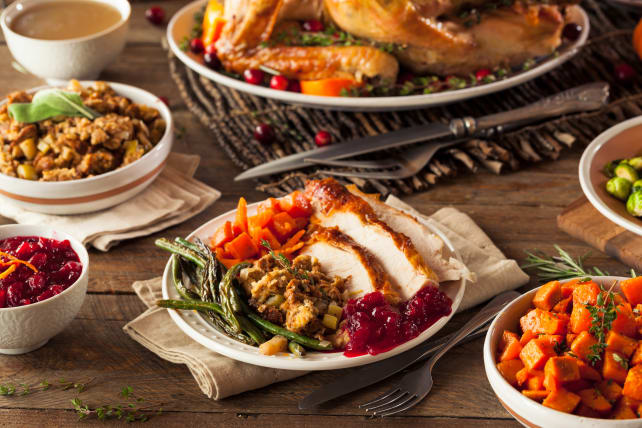 Pre-prep your Thanksgiving list
While it's always fun to surprise your guests with the dishes you've prepared, it's probably a good idea to go ahead and just ask your dinner guests what they want to eat. Making a list of the foods that will and won't fly with your guests will help keep you from going crazy while shopping, since you don't want to spend your time debating whether cauliflower will be a hit or miss (hint: most picky eaters will say it's a miss). Need an easy way to compile all your ingredients? Use the AnyList app (available on iOS), which lets you build grocery lists—and lets your family add to it.
Rethink Thanksgiving basics

When people think Turkey Day, people think turkey, stuffing, mashed potatoes, Brussels sprouts—all that good stuff. But if you know you've got picky eaters at the table, it might be worth your while to prep something you know they love. If they're not fans of your red skin potato mash, stick with homemade french fries. If turkey isn't their favorite, why not roast a chicken? Sure, it's not the most traditional idea, but it makes dinner a meal everyone can enjoy and it doesn't stray too far from the regular ingredient base.
Need more ideas? Anthony Bourdain's Appetites: A Cookbook offers delicious, accessible recipes with a plan of attack.
Do a taste-test beforehand
This is for the parents out there: According to Parents.com, a great way to introduce Thanksgiving foodstuff to your kids is to do so before the hustle and bustle of the big day,
Offering up a steaming plate of squash or a bowl of lumpy cranberry sauce without warning is a surefire way to spark a protest, but a dry run could give your little ones time to get used to the menu. And while you're at it, you might as well recount the story of Thanksgiving, explaining the significance of the food on the table.
Go easy on the seasoning
You may be proud of your delicious rosemary potatoes and fennel-flavored stuffing—and you should be! But where picky eaters often get thrown off is in the details. Rosemary and fennel may not go over so well, so stick with basic flavoring or prepare two separate dishes—one with your favorite spices and one that sticks to the basics.
Don't mix your veggies
Everyone loves succotash, right? Wrong. Your picky eaters may love corn but despise lima beans. And the last thing you want is someone politely pushing a slew of beans to the side of their plate.
If you're going to do veggies, make them as single sides. You can mix them together on your own and let your picky eaters choose their favorites.
Ask about any special diets in advance

While it may seem like a Thanksgiving meal is inherently chock full of calories, gluten, and sugar, it's 100% possible to serve tasty diet-friendly options. Do some research into a few gluten-free (or other allergin-free) Thanksgiving recipes. You might find that special foods are just as easy to cook. This fantastic All Recipes list of ideas is just the beginning.
And when you're done, don't forget to send everyone home with leftovers, courtesy of these adorable Thanksgiving-themed Thanksgiving leftover containers.
Related Video
Our editors review and recommend products to help you buy the stuff you need. If you make a purchase by clicking one of our links, we may earn a small share of the revenue. Our picks and opinions are independent from any business incentives.