ovens
LG LRE3085ST Electric Range Review
It might look like your grandma's range, but it gets the job done.
$1,049.99 at Best Buy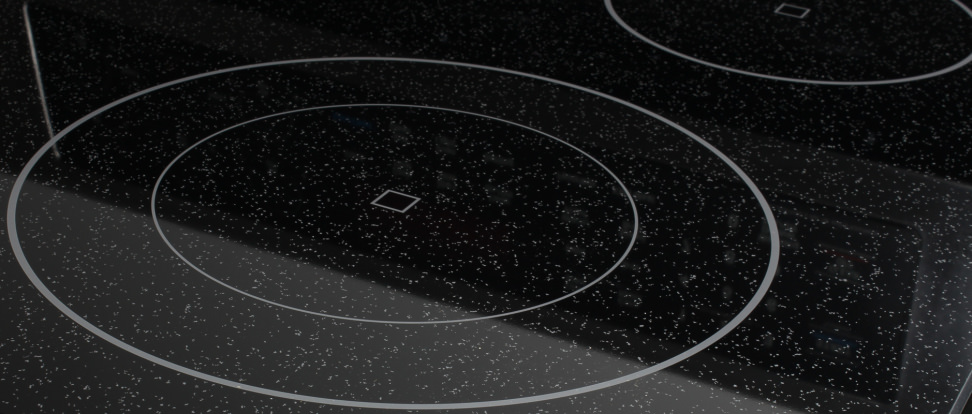 The LG LRE3085ST (MSRP $1,299.99) electric range lends credence to the old axiom: You get what you pay for. In the case of this appliance, it's about adequacy. A reasonable price (not too expensive, but not too cheap either) is matched by decent performance. It may not pack in as many features as other similarly priced ranges, but it succeeds where it counts.
This LG may not be the prettiest belle at the ball, but for those unimpressed by typical high-end design and undaunted by the price, the LRE3085ST represents a wise investment.
Design & Usability
Retro in the worst way possible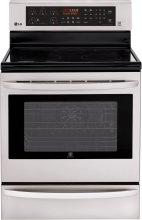 The LRE3085ST sports a clean, no-nonsense design that combines simple lines with an appealing stainless front. Opening the oven door reveals a striking cobalt blue interior, as well as three standard oven racks.
The 6.3-cubic-foot oven cavity is fairly spacious and should handle most large dishes. The range also features LG's EasyClean system—basically a fancy name for steam cleaning. The range looks good from a distance, but up close the effect is ruined somewhat by the dated, speckled ceramic cooktop. Maybe it's just me, but there is a time and place for speckled appliances. The place: my grandmother's house. The time: 1984.
The oven and burner controls can be found on the back panel, and we aren't crazy about the burner control placement. While they're less dangerous than gas flames, the LRE3085ST's electric burners are still mighty hot, and we would prefer to not have to reach over them to adjust the settings. LG has also dispensed with any hard-to-clean physical dials for the burners. Fortunately the touch controls are easy to use and responsive.
Rangetop
Burns hot, boils slow
The LRE3085ST performed admirably in our tests, and should suffice for most of your boiling, simmering, and searing needs. The range top features four standard burners as well as a warming zone in the center.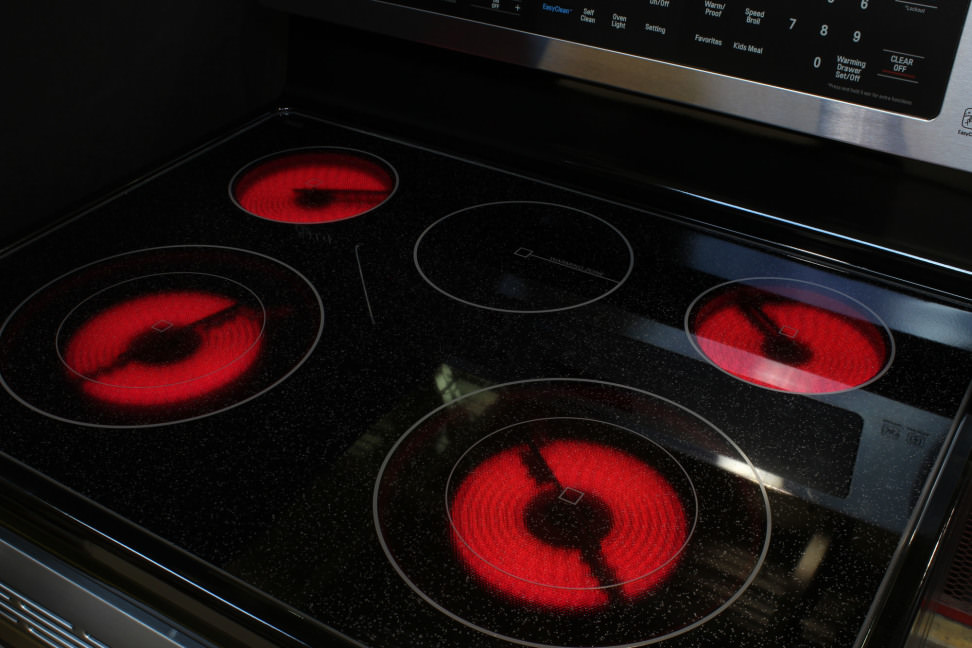 While by no means a slouch, the LRE3085ST didn't excel in the boiling tests. The front burners each took seven minutes to boil six cups of water—an interminable length of time in this age of sub-two-minute boil speeds.
Things are a bit better when we look at the total temperature range. We often see a great deal of temperature versatility when dealing with electric cooktops, and the LRE3085ST is no exception. From a low 93°F, all the way up to an—unnecessarily high—809°F, these burners cover all the bases.
Comparable Products
Before you buy the LG LRE3085ST, take a look at these other ranges.
Oven, Broiler, & Convection
A spiffy oven makes up for the so-so rangetop
It's not often that we wax lyrical about a broiler, but we have to say we were pretty impressed with the LRE3085ST's infrared powerhouse. The broiler reached 605°F in only five minutes. It also provides a greater area of uniform coverage than your standard radiant element.
Even better? The oven managed to preheat in absolutely no time. The oven took only 10 minutes to reach 350°F.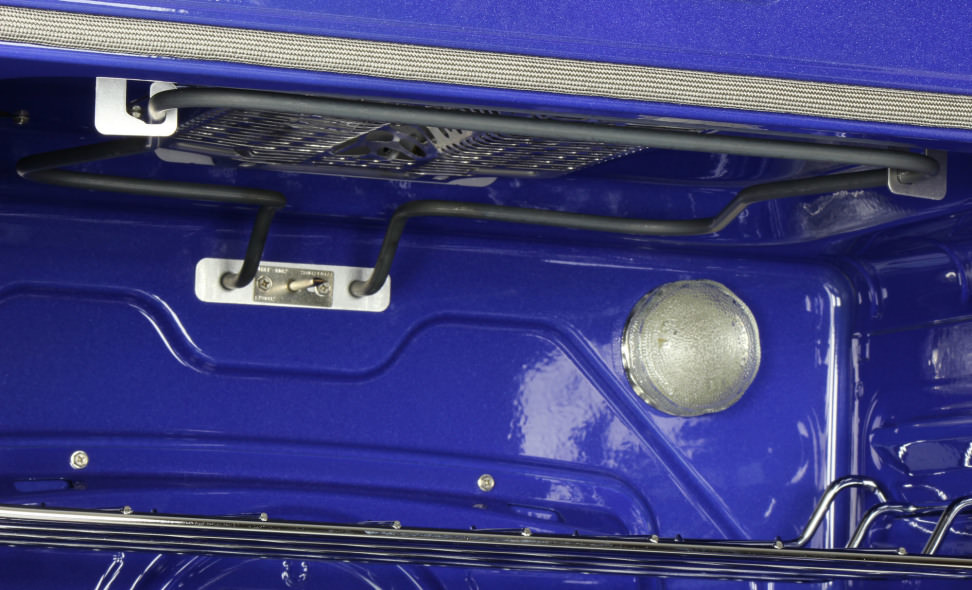 After the stellar broiler and preheat times, we were a little disappointed with the oven's inconsistent performance in other areas. While it managed to remain fairly precise in all settings, it rarely hit the correct temperature; the oven was seemingly content to hover about 15°F above whatever setting we chose.
Accuracy and precision means nothing if your oven can't cook food well, and the LRE3085ST can—for the most part. The oven managed to cook our test cookies and cakes with little trouble. The cakes emerged perfectly cooked: The bottoms weren't burnt and were cooked consistently throughout. The cookies didn't fair quite so well. Those placed on the right side of the cavity indicated a cold spot—possibly as a result of poor sealing.
Of course, we're being a bit picky here. In reality, the LRE3085ST shouldn't give you any trouble provided you keep an eye on smaller items, and shy away from the far right of the oven cavity.
A Good Choice
Doesn't do much, but does it well
The LRE3085ST represents a good choice for those looking for a solid, well performing appliance with minimal frills. The few additional features are well chosen and make for an attractive package. It may lack that indefinable "wow" factor, but it more than held its own when compared with similarly priced models, and the oven performance, while a bit spotty, should leave most buyers pretty happy.
Our editors review and recommend products to help you buy the stuff you need. If you make a purchase by clicking one of our links, we may earn a small share of the revenue. Our picks and opinions are independent from any business incentives.