ovens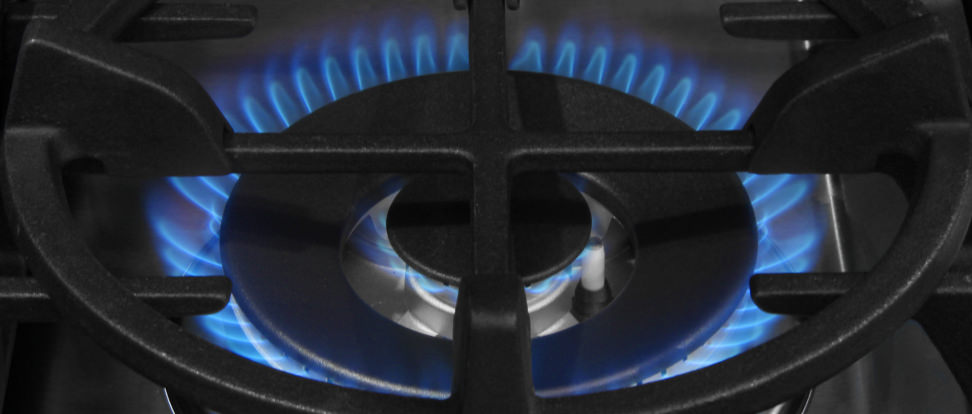 Credit: Reviewed.com
Looking for a stylish new range but also want one that just plain performs? With the Samsung Chef Collection NX58H9950WS slide-in gas range (MSRP $2,799), you get the best of both worlds.
The beautiful, functional stainless steel design is the initial draw, but the NX58H9950WS also heats quickly and cooks evenly, both on the rangetop and in the oven. The included features are unobtrusive, and—as the name suggests—aimed at relatively serious chefs who might need, say, a wok grate more than a dedicated setting for reheating chicken nuggets.
This range isn't cheap—$2,299 is a good sale price—but if you're willing to pay more for great performance and design, we'd recommend you give the Samsung NX58H9950WS some serious consideration.
Design & Usability
Beautiful design meets thoughtful extras
We'd love the Samsung NX58H9950WS for its cooking power alone—more on that later—but the gorgeous design is a welcome bonus. This stainless steel slide-in is a real beauty, with modern edges and angles that distinguish it from a simple box. The 5.8 cubic-foot cavity should fit dinner for a crowd, and the three-setting warming drawer below can keep your meal ready while you wait for stragglers. Controls sit at the front of the range, with simple rangetop knobs on either side of a digital oven control screen.
The oven settings are controlled by Samsung's Guiding Light system. The controls are meant to be operated from left to right, and as you make choices, inappropriate options disappear. This simplifies the process, and essentially provides users with a cooking roadmap.
The oven also has a few welcome additions: The Healthy Cook setting lets you choose from six preset cook modes like "dehydrate" or "salmon steak," while a temperature probe ensures your meat cooks just right.
The oven itself offers true—or "European"—convection with three fans, and convection settings include both Convection Bake and Convection Roast. The cavity comes with three oven racks, including a gliding rack.
On the rangetop, removable black grates cover five burners, which include a central oval-shaped fish burner and a dual burner on the front right. A wok grate can be swapped in to accommodate the tricky rounded cookware, and there's also a reversible cast iron griddle that can sit over the center of the rangetop. Pancakes, anyone?
Rangetop
Great for gas
The Samsung NX58H9950WS has a solid rangetop. Boiling times varied from one burner to another, but the front burners were fastest. The quicker right front burner boiled six cups of water in just over 4 minutes, while the slightly-slower left front burner took almost 6 minutes to bring the water to a boil. You'll want to reserve the central fish burner and right rear simmer burner for other tasks, unless you don't mind waiting a while. Still, how often do you need to boil more than three pots at once?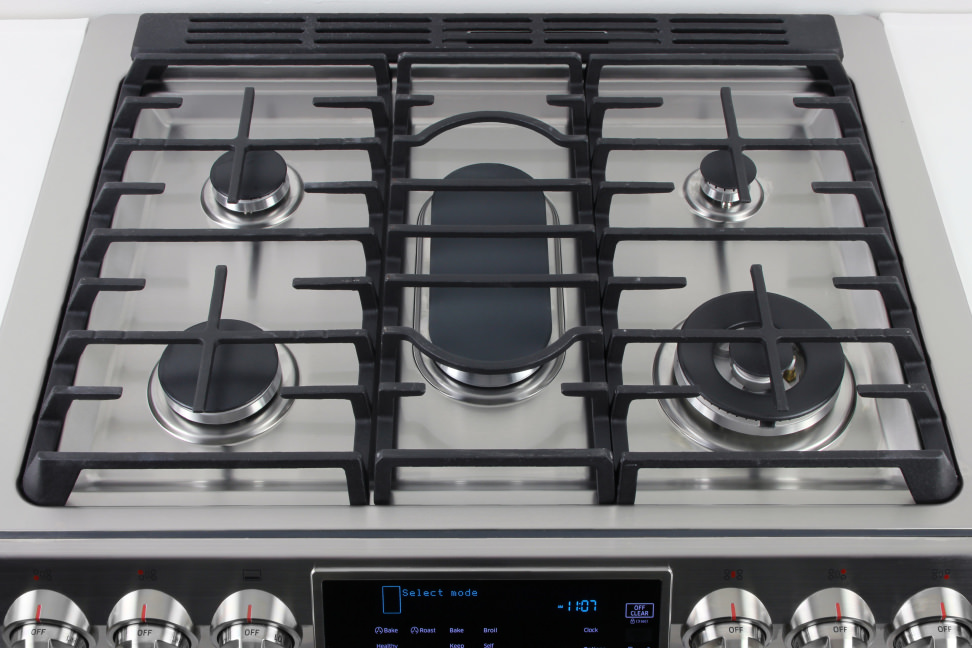 Maximum burner temperatures weren't high enough to earn a great score, but that's to be expected with gas rangetops, which excel at accuracy but just can't hit the high temps we see with electric and induction. Still, most burners will serve you well enough during high-heat tasks like searing meat. The left rear burner was the hottest, hitting a maximum temp of 436°F during testing, while the other round burners fell short of 400°F—but not by a whole lot. The only burner we'd recommend only for lower heat tasks is the central fish burner, which failed to reach even 300°F, something not totally unexpected from this kind of burner.
Low temperatures were more impressive. Burners hit their lowest heat between 112°F and 193°, which means you'll be well equipped to simmer soups or melt butter.
Comparable Products
Before you buy the Samsung Chef Collection NX58H9950WS, take a look at these other gas range tops.
Oven, Broiler, & Convection
Convection doesn't mean perfection, but it helps.
Seeking an oven that can perform? Look no further. The NX58H9950's 5.8 cubic-foot oven did a pretty good job during our baking tests, turning out cakes and cookies with great potential.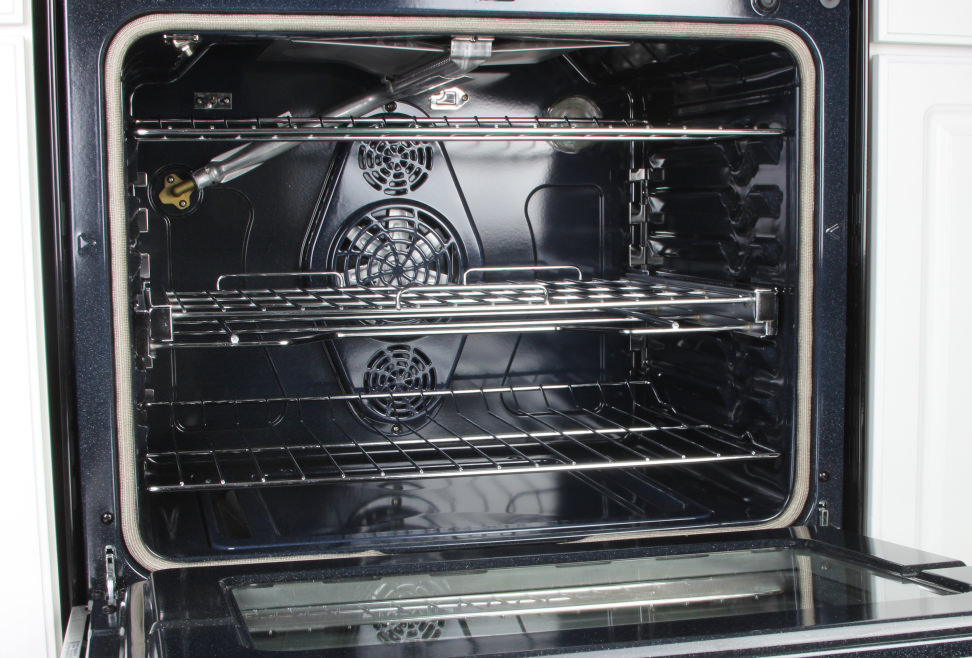 Regular oven settings offered mixed performance, but switch on that true convection and you'll get a bit of a boost. Cookies baked with the standard setting emerged a bit too dark on the bottoms, but were slightly less dark when we used convection. Cakes baked with the standard setting were fairly uneven, emerging with dark edges and some darker and lighter spots, and unfortunately this varied from one cake to another as well. When we tried again using convection, we saw a significant improvement, with very little variation in browning throughout the individual cakes, although they still varied from one cake to another.
There's a lesson to be learned here: Use the convection setting. It's not a miracle solution here by any means, but it does result in some improved baking quality. Still, we'd urge users to keep a close eye on cooking food to make sure it doesn't burn. We'd also suggest using parchment paper or placing your food on one of the upper racks to discourage burning on the bottom of the food.
The NX58H9950 also offers a downright speedy preheat, reaching 350°F in about 7.5 minutes. The broiler too won't keep you waiting; it took just over 7 minutes to reach our target 605°F broiling temp.
The oven does offer a Self Clean system as well, which simply burns away dripped-on food, as is fairly standard.
Why We Love It
Worth the splurge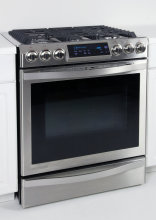 If you're shopping for a gas range, you'd be hard-pressed to find something better for under $3,000. The Samsung Chef Collection NX58H9950 slide-in does well in every category, coupling a solid cooking and baking performance with good looks and some nice features.
Of course, you do get what you pay for. If the current sale price of $2,299 is still too much, and if looks and features matter less to you, the Kenmore 75232 and Frigidaire FGGF3054MF offer good performance for less than half the price, but both lack the sleek stainless, smart design choices, and high-end features you'll find in the NX58H9950.
Still, if you're willing to shell out a bit more cash, this Samsung may prove worth the splurge.
Our editors review and recommend products to help you buy the stuff you need. If you make a purchase by clicking one of our links, we may earn a small share of the revenue. Our picks and opinions are independent from any business incentives.