ovens
Samsung NE58F9710WS Flex Duo Slide-In Range Review
Why settle for one oven when you can have three?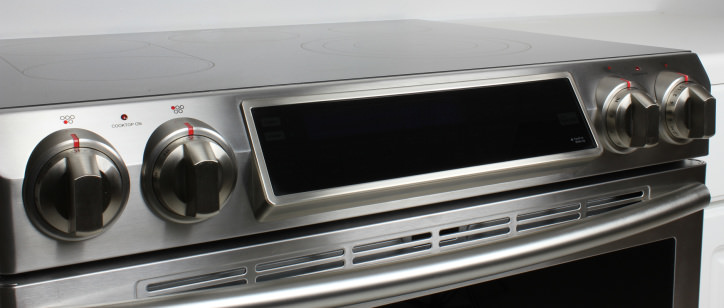 The Samsung NE58F9710WS (MSRP $2,299.00) is an attractive slide-in electric range that does a great job cooking. It also features Samsung's Flex Duo divider, which allows the NE58F9710WS to transform from a single to a double oven in a flash.
When Flex Duo debuted on the FE710DRS back in 2012, we gave it our Best of Year award for 2012. Now, it's available on a stylish slide-in range, and we like it just as much.
Innovation comes at a cost, and this range is no exception. But even with a hefty price tag, the NE58F9710WS is a great value.
Design & Usability
Cool style and cool features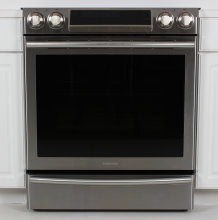 While the Flex Duo System is undoubtedly the star of the show, the NE58F9710WS also features a slick "transitional" design that blends hefty controls with an innovative control panel. The overall look will match any kitchen, and the slide-in format gives the appearance of being part of the original cabinetry design. Design-wise, it's nearly identical to the NE58F9500SS, a great electric slide-in range that we named an Editors' Choice.
The Samsung comes equipped with one standard rack, a split rack, and a gliding rack. The gliding rack is mounted on ball bearings, and extends completely out of the oven cavity. That makes it easier to lift heavy, hot bakeware.
The NE58F9710WS features Samsung's Guiding Light control panel. The aptly named dashboard displays cooking options in a sequential order from left to right. With every press, only the available modes and settings are visible and selectable. This means less time figuring out how the oven works and more time actually cooking food. Additionally, the control panel adjusts depending on whether the Flex Duo panel is inserted. Once the divider is in place, the oven switches to dual mode and only dual cavity options are available.
As a counterpoint to the modern guiding light system, the burners are controlled by solid-looking physical dials. They're placed at the front of the range for easy reach.
There are two other things we love about this oven. First, it's 26 19/64" deep. That means you can replace a traditional freestanding model without having to fill a gap in your countertop behind the range. The same goes for Bosch's new slide-ins, and we think it's brilliant.
Second, there's still a warming drawer at the bottom of the oven. Most dual ovens use this space for a portion of the bottom oven, because it has to be larger to accommodate large items like turkeys. If you need a big oven and you've got the NE58F9710WS, just pull the divider out. It will fit right above the warming drawer.
Advertisement - Continue Reading Below
Rangetop
So much more than an afterthought
Considering that this range is marketed almost exclusively on its unique oven feature, one could almost forgive Samsung if its engineers gave the rangetop a short shrift. Fortunately, that does not seem to be the case with the NE58F9710WS, which exhibited impressive performance in most areas.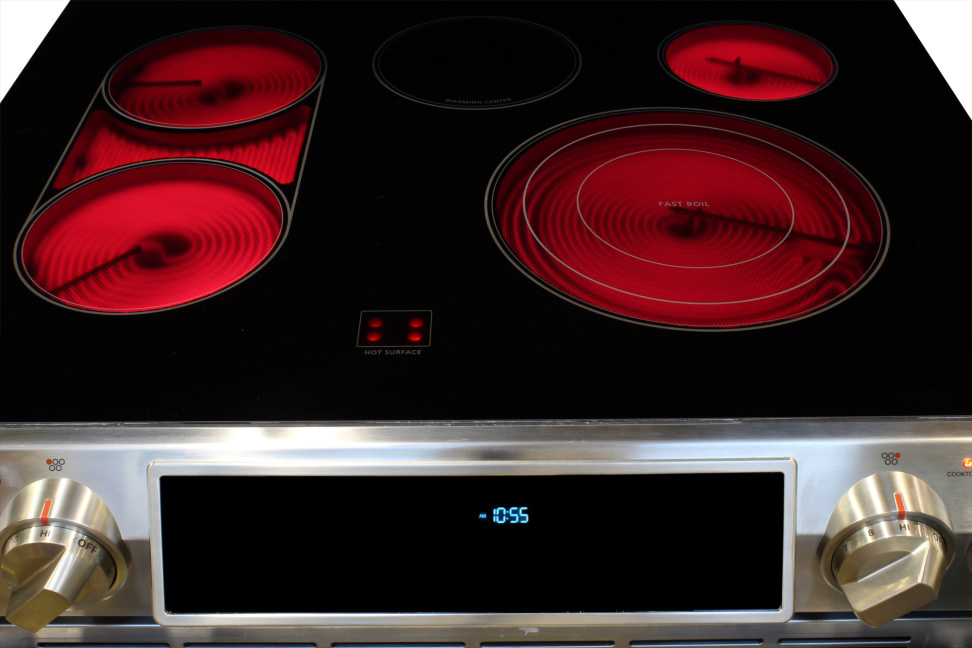 The rangetop features a triple burner, a bridge burner (a heating element that spans the gap between two burners—not a reckless person who doesn't care about consequences), as well as three standard burners. While it ain't no induction, the range top did extremely well in our boiling tests. The front right burner was particularly impressive: it boiled six cups of water in under four minutes. Only the best induction ranges beat this time.
The rangetop was no slouch when it came to high and low temperatures as well. We recorded an average high of 715°F and an average low of 85°F, temperatures that should have you covered whether you're searing a prime steak or simmering a delicate sauce.
Oven, Broiler, & Convection
Single life
We tested the NE58F9710WS in both single and dual oven modes. While a discussion of the Flex Duo performance can be found below, those looking for a capable single oven are in for a treat. Although far from perfect, the range managed to impress us with not just its speedy preheats, but also its precision. While the oven tended to overshoot the target temperatures, that's likely an intentional way of counteracting cooks who always open the oven door. Throughout our tests, the single oven maintained a consistent temperature.
The preheat was particularly impressive, and took only eight minutes to get to 350ºF.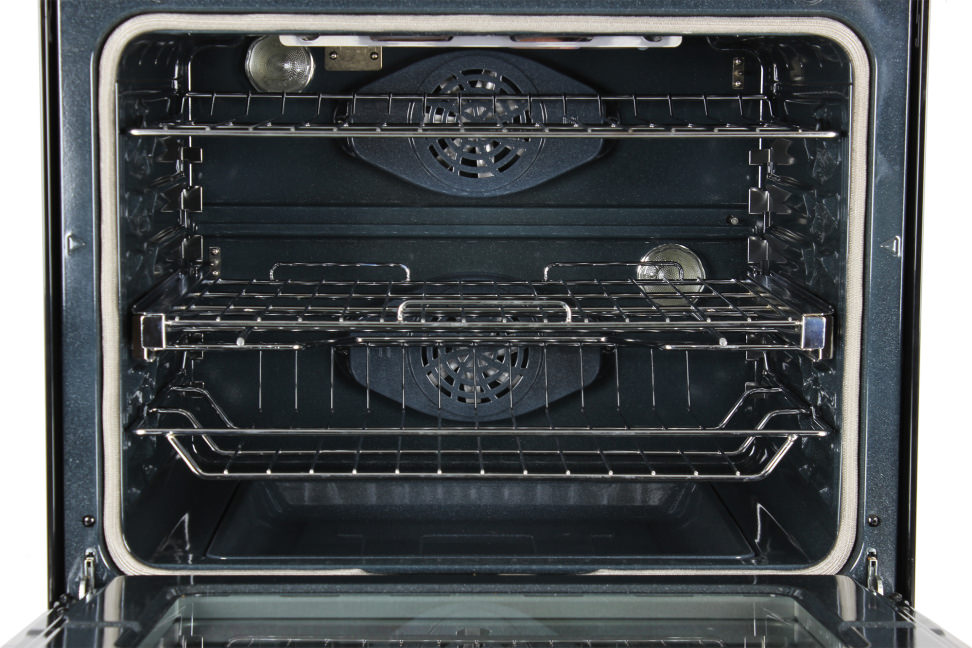 In terms of actual cooking performance, the single oven proved perfectly adequate. Whether or not convection was turned on, our baking tests revealed few—if any—hot or cold spots in the cavity. The cakes we baked were slightly overdone on the bottom, but not so much that they were ruined. We'd recommend turning down the temperature if you're using a dark pan.
The NE58F9710WS only faltered in our broiling test, where it took too long to heat up and didn't get as hot as we'd like to see. It'll still get the job done—but it might take longer.
Flex Duo
On second thought, make it a double.
Any discussion around the Samsung NE58F9710WS is pointless without discussing the Flex Duo system. We'll make one thing clear from the start: The Flex Duo system is impressive and, for the most part, works. However, it isn't a perfect replacement for a double oven. Bear with us, because this gets a bit technical.
As a single oven, the NE58F9710WS offers traditional baking and "true" convection, with a heating element in the fan to evenly distribute hot air. Once the divider is inserted, you can still use either choice in the 3.3 cu. ft. bottom oven. But the 2.4 cu. ft. top oven can only bake with convection, and you lose the "true" convection option. There's no heating element in the fan that circulates hot air.
If none of that made sense to you, you'll have no issues with this oven. Practically speaking, we had no problem simultaneously cooking two different dishes at different temperatures, and there was no heat or aroma transfer. However, serious cooks should know exactly what the oven can do.
Individually, both oven cavities performed pretty well, but the lower oven's "true" convection outperformed the top oven, which displayed some uneven results in our bake testing. In other words, we'd put the roast down below, and use the top heating a baked potato.
The Best of Both Worlds
It's no replacement for a double oven, but it gets pretty darn close.
The Samsung NE58F9710WS is stylish, capable, and features a revolutionary divider that offers the capacity and footprint of a single cavity oven with the convenience of a double. We've also found it on sale for around $1,800. If that's too much for you, and you can forgo the Flex Duo divider, get the NE58F9500SS. It's essentially the same range without Flex Duo, and it sells for around $400 less.
However, if you're looking for one of the most versatile electric ranges on the market, we recommend the NE58F9710WS.
Our editors review and recommend products to help you buy the stuff you need. If you make a purchase by clicking one of our links, we may earn a small share of the revenue. Our picks and opinions are independent from any business incentives.
Our editors review and recommend products to help you buy the stuff you need. If you make a purchase by clicking one of our links, we may earn a small share of the revenue. Our picks and opinions are independent from any business incentives.
Advertisement - Continue Reading Below
Compare Prices
Our editors review and recommend products to help you buy the stuff you need. If you make a purchase by clicking one of our links, we may earn a small share of the revenue. Our picks and opinions are independent from any business incentives.
Get Our Newsletter
Real advice from real experts. Sign up for our newsletter
Thanks for signing up!