ovens
Whirlpool WFE540H0AS Electric Range Review
A good range, and nothing fancy.
$949.00 MSRP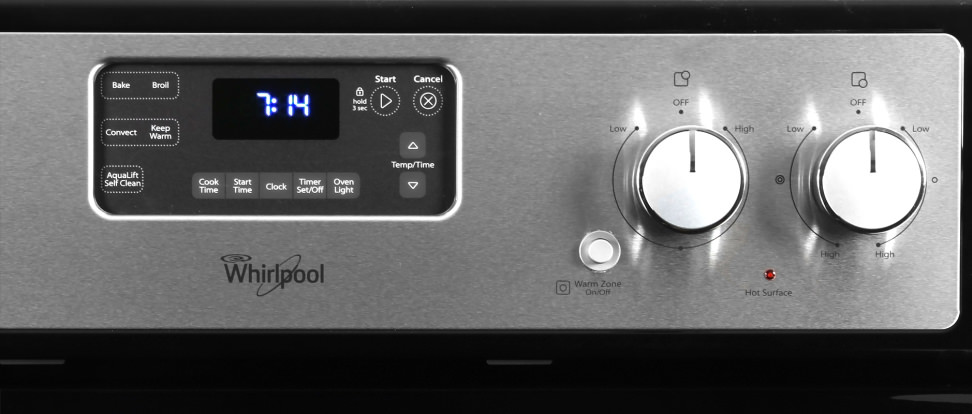 Are you looking to upgrade your kitchen with a functional, stylish range? If so, you may find the Whirlpool WFE540H0AS Electric Range (MSRP $949) to your liking. It's a basic freestanding range with impressive temperature control, fast preheating, and quick boiling. It also features convection cooking and that all-important stainless trim.
Though the excellent rangetop won us over immediately, the basic oven didn't quite meet our high expectations. Even so, we think the total package makes for a good choice at this price point.
Anyone looking for a slew of cool features, professional-style looks, or chef-level performance will want to look elsewhere. Those seeking something simple and straightforward? Read on, brave remodelers. This range could be the one.
Design & Usability
Basic design that lets cooking take the spotlight
There's nothing remarkable about the appearance of the this range, but that's not necessarily a bad thing. All stainless steel with black accents, it's far from a statement piece. That means it should easily match the decor of most kitchens. Those who don't love stainless steel will be pleased to know that the range is also available in black and white, albeit at slightly different price points.
The glass rangetop houses two dual-ring front burners and two smaller single-ring rear burners, along with a central warming element. Rangetop controls come in the form of knobs that twist between high and low settings. Unfortunately, they're situated on the backsplash, which we dislike as a location because it requires the user to reach over a hot stove to adjust temperature.
The two dual-ring burners up front require you to turn a knob counterclockwise to heat the smaller ring and clockwise to heat the larger ring. It's not exactly rocket science, but the crowded controls make the rangetop settings difficult to read at a glance.
The electronic oven controls, also located on the backsplash, are almost completely devoid of special features. Worth noting: An Energy Save option allows you to place the electronic controls into a sleep mode that lessens power consumption when the range is not in use.
Rangetop
Simmer or Sear? This rangetop can do both.
The WFE540H0AS has a fantastic rangetop. Boiling times varied significantly between the burners, but the showing was good overall. The outer rings of the dual-ring burners were the fastest, with the left front outer ring boiling six cups of water in under five minutes.
The single-ring rear burners were considerably slower, but with three burners on the rangetop reaching a boil in under ten minutes, we can't imagine it would make much of a difference unless you're cooking linguine with clams for 50 guests. Our recommendation? Cook your pasta on the front of the stove if you're in a hurry.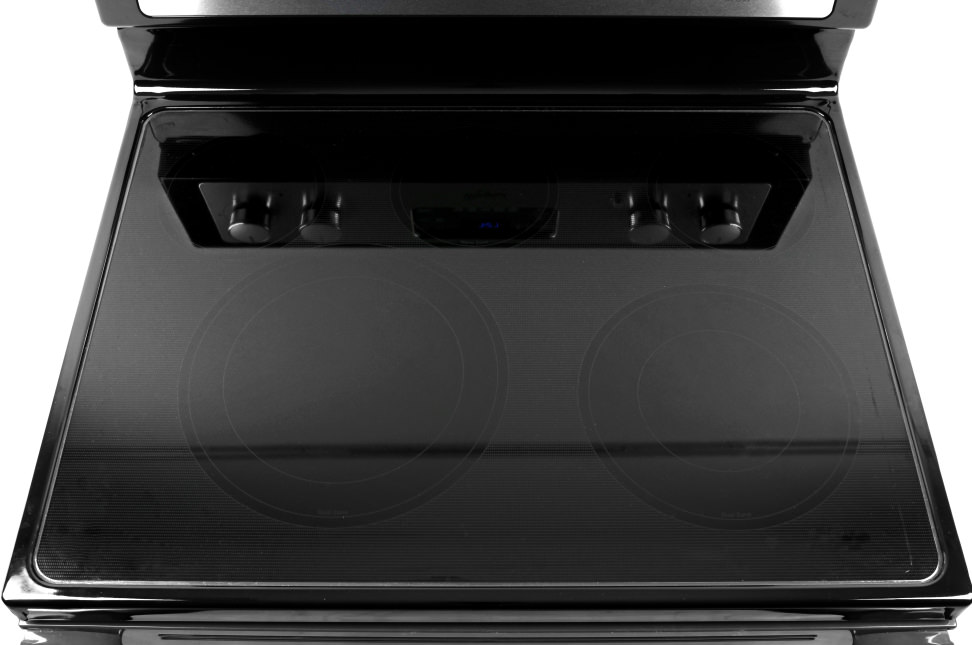 The rangetop earned our admiration in the heat distribution test, with the burners easily hitting temperatures above 500ºF. Soups will do best at the back of the rangetop, where the burners had no problem keeping foods below 100°F, but even the front burners wowed us with their gentle heat.
Comparable Products
Before you buy the Whirlpool WFE540H0AS, take a look at these other ranges.
Oven, Broiler, & Convection
Our hopes were high, but so were oven temperatures.
This 6.2 cubic-foot oven can sure fit a lot of food, but it did a mediocre job with temperature regulation.
Sure, the oven excelled at preheating and broiling. However, the heat proved too much in our Keep Warm test, with the cavity averaging about 45°F above the target temperature of 170°F. Temperatures varied a great deal during our 350°F test, but the convection setting vastly improved the cavity's proximity to the set temperature.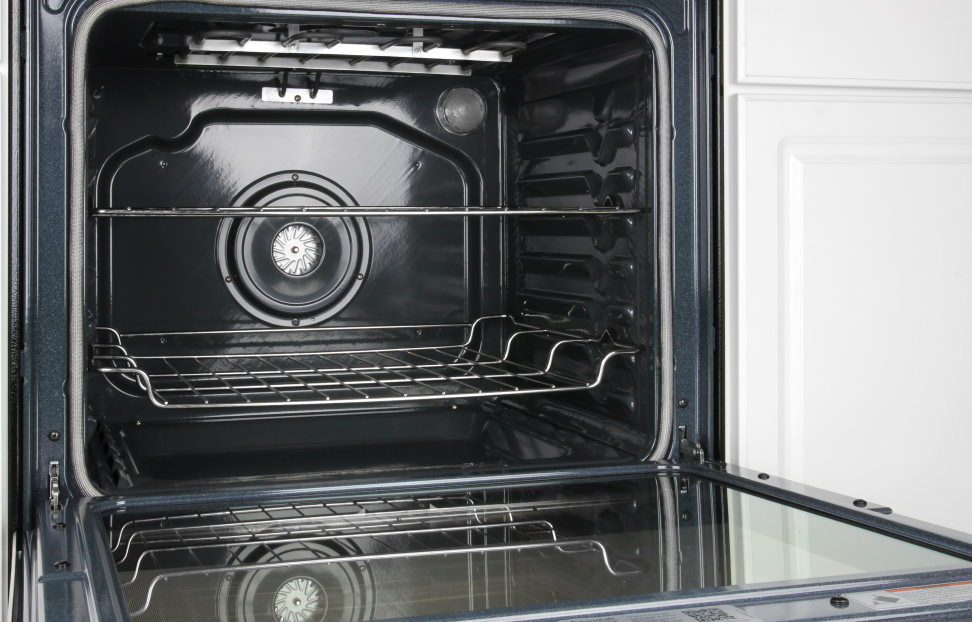 In our baking tests, we had trouble with sugar cookies. They emerged with darker bottoms than tops, and each cookie was cooked slightly more or less than the one next to it. That indicates issues with temperature regulation across the oven cavity.
Still, cakes were practically perfect, which means the WFE540H0AS should do the trick for roasting and light baking — just keep an eye on your breads and casseroles. The similarly priced LG LRE3023ST has a more reliable oven, but it can't beat the WFE540H0AS's powerhouse rangetop.
The oven comes equipped with an Aqualift cleaning cycle, which uses water and low heat to wash away messes in under an hour, as long as you're okay with wiping the interior with a sponge. This oven does not have a traditional pyrolitic self-clean cycle, which burns off all stains but can stink up your kitchen.
Conclusion
It's simply great.
The Whirlpool WFE540H0AS is a very good range. Performance-wise, it's not the best we've ever tested. But sale prices around $600 make this stainless convection oven a great value.
We found it compared favorably to other electric ranges with sub-$1,000 MSRPs, as well as many pricier options. With an excellent rangetop, acceptable oven, and bare-bones approach to special features, it's a basic range for the everyday cook that doesn't look half bad, either.
If consistent oven performance is important to you, you may want to shell out for the KitchenAid KERS208XSS (MSRP $1,439). The Whirlpool WFE540H0AS performed well in many of our tests, but this is definitely a range that will appeal more to those who favor rangetop cooking over baking.
And if you're just looking for a stainless range to update your kitchen, this Whirlpool is a great choice. Not only is it inexpensive, but it doesn't lag when it comes to performance.
Our editors review and recommend products to help you buy the stuff you need. If you make a purchase by clicking one of our links, we may earn a small share of the revenue. Our picks and opinions are independent from any business incentives.