Touch-sensitive controls aren't anything new, but gas ovens have traditionally made do with knobs.
Until now.
Dacor, the high-end appliance manufacturer from City of Industry, California, has come out with a new gas cooktop that uses touch-sensitive electronic controls to turn on burners, set timers, and even automatically schedule a burner to shut off after a set time.
Called the Discovery Gas TouchTop, it debuted at the Architectural Digest Home Design show in New York City. Its five burners sit in the sort of sleek, black glass that's usually reserved for radiant heat or induction, but these are all gas—including a removable wok burner.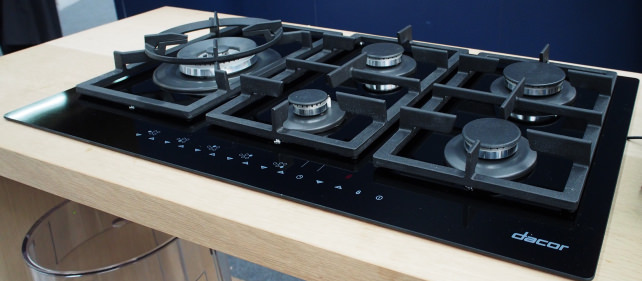 Not only does the glass cooktop look good, but it's also easy to clean. For instance, it got pretty dirty on the Architectural Digest show floor, but it took a company representative less than a minute to wash it down with glass cleaner and a paper towel. We have to imagine a grease-covered glass cooktop will be easier to clean than stainless.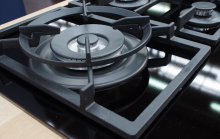 The cooktop's timer function looks like it will be especially useful for chefs cooking more than one item at once. Instead of keeping an eye on the clock, they can set a burner to automatically turn off after any number of minutes.
Touch controls also let Dacor install a child safety lockout and a residual heat indicator—features that are already common on electric rangetops but seldom found on gas models.
The Discovery Gas TouchTop will debut on the 36-inch DYTT365GB. It is expected to sell for $2,299 when it arrives late this summer.
We've scoured the web to find you the best deals on good products. While Reviewed.com may receive a small share of the revenue from your purchase, editorial opinions are independent from any business sales.
Be in the know! Get Reviewed.com news and reviews straight to your inbox.
Thanks for signing up!