The Best 36-inch Dual Fuel Ranges of 2018
By Keith Barry
Serious home cooks like dual fuel ranges because they combine the best of both worlds: Gas burners for superior control, and an electric oven for even baking.
That's why high-end appliance companies—like Thermador, Wolf, Miele, and Monogram—specialize in dual fuel ranges with pro-style looks. For an upscale remodeling project, most designers recommend at least a 36-inch model because they're large enough to fit at least five pots and pans with room to spare, and offer enough oven space to prep for a dinner party.
At Reviewed.com, we cooked on ten of the top-rated dual fuel ranges on the market. We recorded how evenly they broiled, whether their ovens had any hot spots or cool areas, how well they roasted, how fast they boiled, and how low they simmered. (If you want to know more, you can read all about how we test.)
Armed with that knowledge, we can recommend our favorite 36-inch dual fuel ranges.
Updated January 05, 2018
Thermador Pro Harmony PRD364GDHU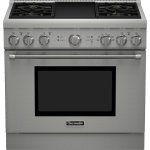 Thermador Pro Harmony PRD364GDHU
Having awarded the company's wall ovens and range tops, it's clear that we're big fans of Thermador's cooking appliances. It's probably no surprise that the PRD364GDHU dual fuel range aced our tests, too.
This range lacks any extraneous features, but it does offer helpful bake settings, burners that can get astoundingly low, and an electric griddle that's perfect for Sunday brunch.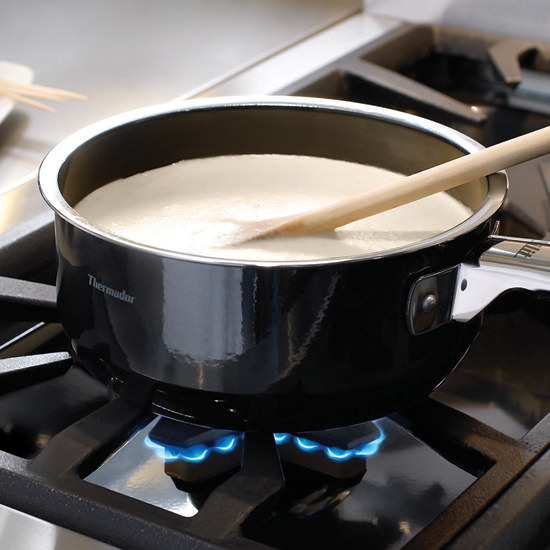 When we put it to the test, the 364's star-shaped burners ran the gamut from simmer to boil. Down in the oven, cakes and cookies emerged beautifully even, and a roasted pork loin was juicy throughout underneath its crispy exterior.
Wolf DF366
Wolf DF366
You might assume that Wolf commands a high price for its well-known brand name and famous red knobs. But we found a lot of substance behind its famous design.
Although we prefer Thermador's burners to Wolf's for high-heat cooking, these certainly aren't shabby. The dual-stacked design requires a little more interaction, but rewards the user with superior control.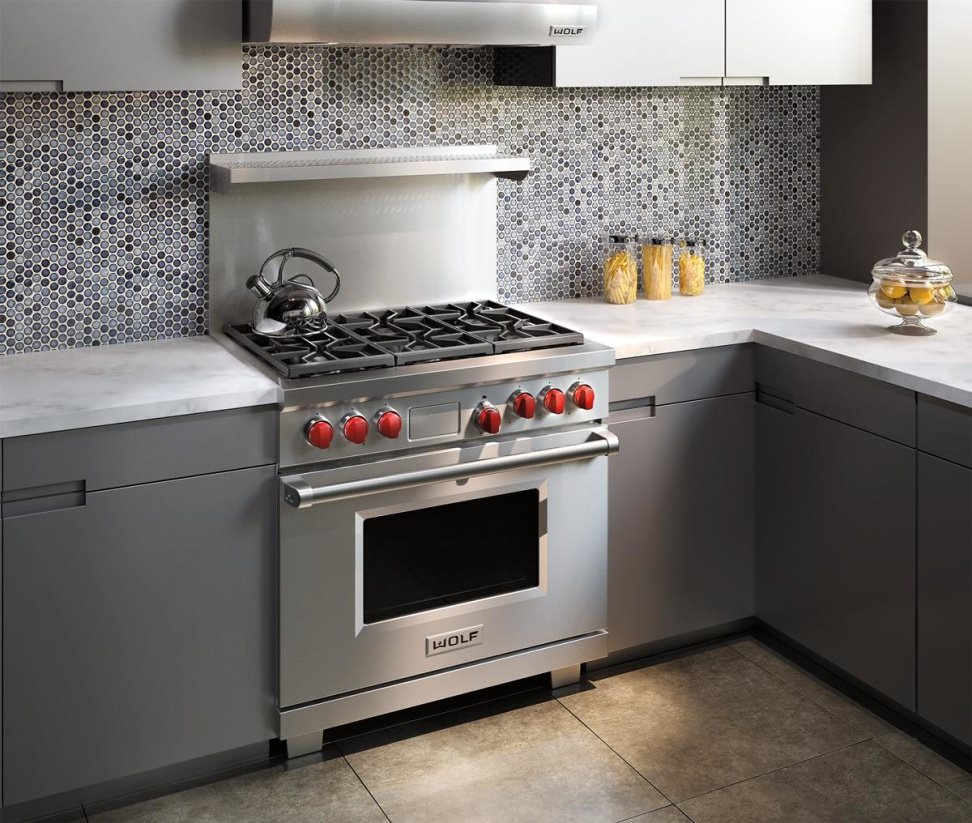 If you choose the DF364C, it comes with an infrared charbroiler in the center—perfect for steaks, chicken, and grilled vegetables even if it's raining outside (the DF366—shown—does not). The oven bakes and roasts evenly, but also adds unique modes for proofing bread and drying fruit.
Miele HR1934DF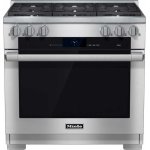 Miele HR1934DF
German manufacturer Miele is best-known for its modern-style appliances, which fit a European design sensibility. The company's first-ever range is designed specifically for the U.S. market, but it still has a sleek, streamlined look.
That makes it different from the other ranges we tested, which have restaurant-inspired features like knurled steel handles and chunky controls. Instead, this Miele is designed for ease of use. Dishwasher-safe continuous grates, a fingerprint-free finish, and a swivel-open handle are just the beginning.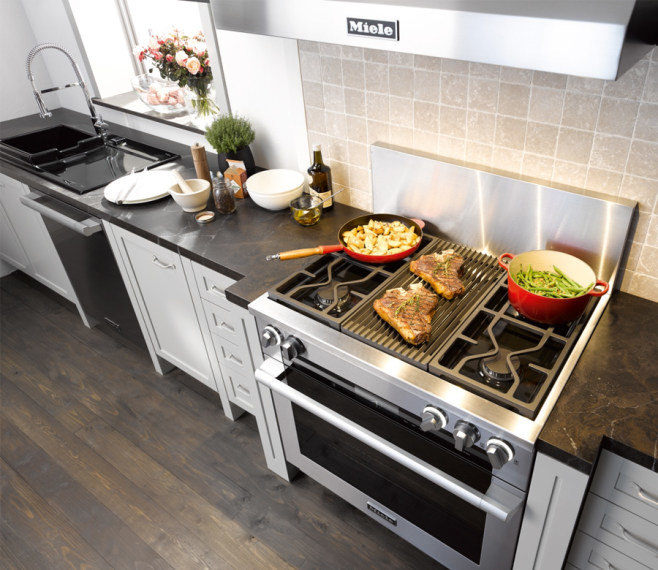 Users can also choose from over 100 automatic recipes programmed into the M Touch smart cooking setup. The touchscreen takes a little getting used to, but we couldn't argue with the Miele's precise True Simmer burners that could also reach boil in a blazingly fast five minutes. The convection oven baked evenly and was quick to preheat, too.
Monogram ZDP364NDPSS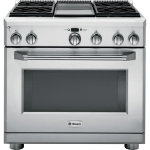 Monogram ZDP364NDPSS
Unlike many other pro-style ranges, GE split the difference between the latest tech and a spartan experience. Users get a slew of bake and roast settings, a massive 5.75 cubic-foot self-cleaning oven, three sliding oven racks that can remain in the oven during cleaning, a griddle, and multi-part black rangetop grates that can handle a wok.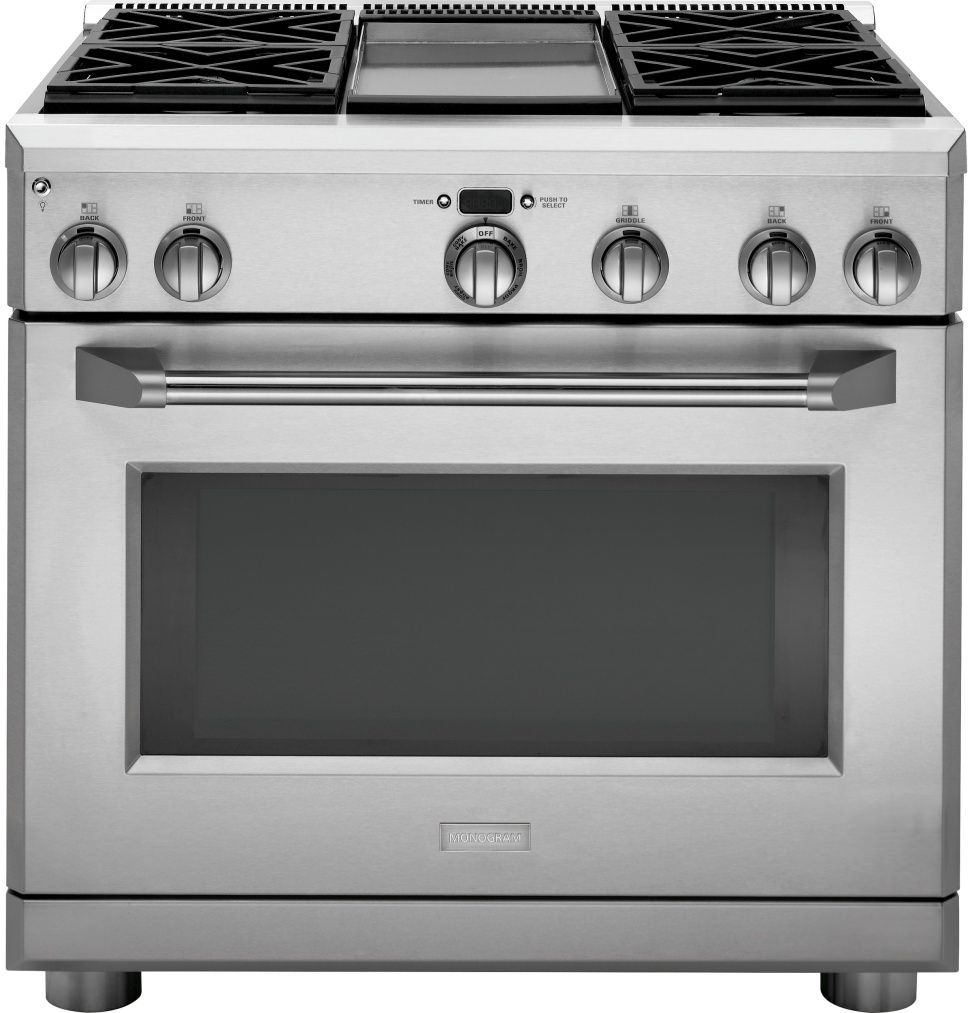 And it cooks well, too. Monogram is owned by GE, but there's little in common between this range and an entry-level model. Burners simmered at some of the lowest temperatures we've ever recorded on a gas range, and the oven gave us cookies and cakes that were evenly cooked. We found no hot or cold spots to speak of.
Bertazzoni MAS365GASXE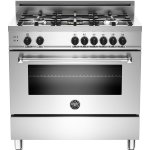 Bertazzoni MAS365GASXE
Unlike any of the other ranges on our list, this attractive Bertazzoni costs less than $3,500. Hand-built in Italy, it requires far more interaction than some of the higher-tech models we tested. We think it's ideal for a certain kind of chef—who prefers experimentation over shortcuts, and interaction over technology.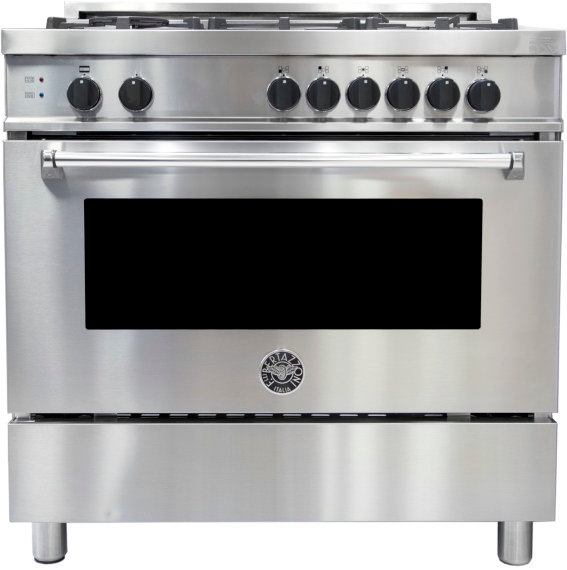 Looks-wise, it's a classic choice for any kitchen style. Shiny, height-adjustable legs match the shiny professional-style handle and show off the floor beneath, so it's ideal for standalone installation.