Bosch introduced a new lineup of ovens at this year's Design and Construction Week that bring European design sensibilities to American shores.
First and foremost is the new 30-inch Benchmark-series wall oven (MSRP $2,899-$3,199 for single and $4,399-$4,949 for double). The most noticeable feature of this revamped lineup is the design. The door opens to the side rather than forward. Little touches like that can make a big difference, and this new oven has so many nice little touches that it may lead to big changes in the way you cook.
Design & Features
Because a gate is easier to open than a drawbridge
You might not think a door that opens sideways could be a big deal, but it actually can mean a great deal. A door that opens horizontally allows for more access. Think about it: A door that opens forward forces you to stand farther away. It makes even more sense if you want your oven installed off the ground at waist or chest height.
Then there's the fact that an oven that opens sideways is more handicap accessible. Remember, ANSI recommends at least a 60-inch clearance for wheelchair maneuverability.
The 30-inch Benchmark wall oven was designed to be integrated horizontally with its steam and microwave oven counterparts. What you'll see are TFT control panels lined up with the same menu scheme. When looking at the side door oven alone, the first thing you'll notice is how solid it is. The hinges of the door are reinforced to the point that a small child can hang off it without worry....not that you'd let your kids do that.
The next thing you'll notice is what you don't see: trim. The wall oven is designed to not have a trim kit and will fit in almost any U.S. home. This means whether it's new construction or an old house undergoing renovation, this Bosch will fulfill your size needs.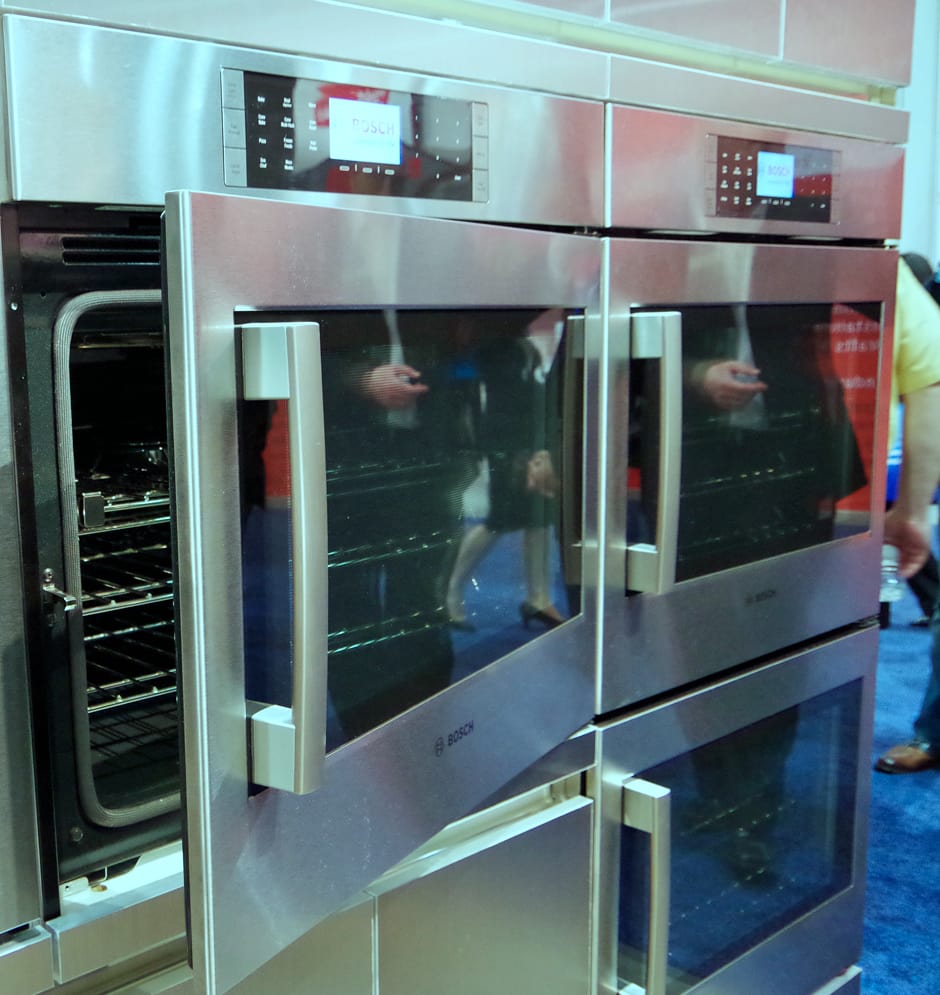 On the features front, the Benchmark wall oven has two of real note. The first is the Auto Probe. This is probe that you can stick into meat so your oven can keep track of the internal temperature. This will give you more control over your meal preparation. The second feature is called EcoChef. Economical and ecologically sound, the Benchmark uses residual convection heat to cook food. Thus, it saves you energy and money.
Lingering Thoughts
With no trim kit, it perfectly fits a niche.
Bosch's American presence has receded over the past decades, but this launch proves that the German company hasn't been sitting idle. The Benchmark wall oven has the potential to make a few marks in the high-end market. After all, the lack of trim helps bring a more European flair to your kitchen without having to redo everything else.
We haven't had the chance to test these ovens for performance just yet, but we certainly approve of the looks and included features. Though it's a relatively expensive oven, there are definitely worse ways to spend your money.
Our editors review and recommend products to help you buy the stuff you need. If you make a purchase by clicking one of our links, we may earn a small share of the revenue. Our picks and opinions are independent from any business incentives.