ovens
Kenmore Elite 41313 Freestanding Electric Range Review
Versatile and well-rounded.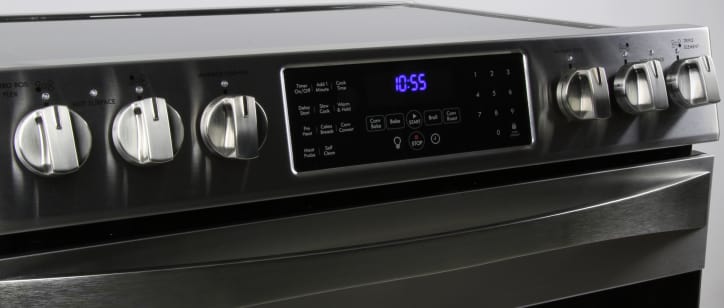 Credit: Reviewed.com
When we first saw the Kenmore Elite 41313 (MSRP $2,599.99) 30-in. freestanding electric range last year, we were impressed. It's the latest contender among a growing number of slide-in style ranges that promise both sleek looks and easy installation.
In addition to its attractive appearance, it offers a ton of different oven cook modes and convection, and did well across all of our tests. That's not surprising. It's built by Frigidaire, who makes many of our best-scoring ranges.
However, a 4.6-cu.-ft. oven capacity and a $2,199 sale price make it a tough sell against the similarly styled LG LSE3090ST, which can be found for just under $1,499. For just $1,799, you can get the attractive and innovative 5.8 cu. ft. Samsung NE58F9710WS. In addition to good looks and performance, only the Samsung features a Flex Duo divider that lets users switch between a single- and dual-cavity oven.
We wanted to like this Kenmore—we really did! It's a great choice for a streamlined kitchen remodel, and it baked and boiled like a champ. But with so many competitors on the market selling for hundreds less, we can only recommend it if the price drops significantly.
UPDATE: As of June 29, 2015, the price on this range has dropped to $1,699 at Sears. That makes it a considerably better value. If you're shopping for a freestanding electric range with a slide-in look, we now recommend you check out this Kenmore. Just make sure to wait for a sale price.
Design & Usability
Sleek in appearance, with a bounty of options
The 30-in. 41313 is billed as a freestanding range with a built-in look, and there's no denying it has a sleek appearance. Like all freestanding ranges, it can be installed almost anywhere. Unlike most freestanding ranges, it has front-mounted controls and no backsplash, which give it the unified look of a slide-in range. Because it's 28.97 inches deep, however, it doesn't require a homeowner to make modifications to a countertop, as most slide-ins do.
The oven door may not be entirely covered in steel, but the warming drawer and control panel both sport that unmistakable stainless sheen. The 4.6 cu.-ft. oven houses three racks, while the ceramic glass electric rangetop has four electric burners and a rear central radiant warmer zone.
All the controls are located on the front of the range. The electronic oven control panel is set in the center, with rangetop's control knobs placed on either side. The panel is angled for easier viewing, but in the wrong light it's still a bit tough to read the oven cooking modes without bending over.
Those who can see them will note a wide variety of oven settings, including Preheat, Bake, Convection Bake, Convection Roast, Slow Cook, Warm & Hold, Cakes or Breads, a temperature-adjustable Broil, and even a meat probe option. (Phew!) The 41313 also has a timer, a Self Clean cycle that you can set to run between two and four hours, and a Recipe Recall feature that saves your favorite settings. For folks who want to experiment with convection cooking but don't have a firm grasp of how it works, there's a Convection Convert function that should make the necessary time-to-temp adjustments for you.
Advertisement - Continue Reading Below
Rangetop
Almost too hot
The rangetop is about as versatile as they come. Two rear burners each bring 1,200W worth of heat, while the front of the rangetop boasts a 3,200W burner and a 3,000W tri-ring burner that can fit three different cookware sizes.
All but the front-left burner got up to steak-searing, wok-warming temperatures between 629°F and 696°F within 5 minutes. That's actually a tad hotter than we like, as it surpasses the flash point of cooking oil. This rangetop is pretty darn powerful, so you'll want to remain attentive when cooking on it at high heats.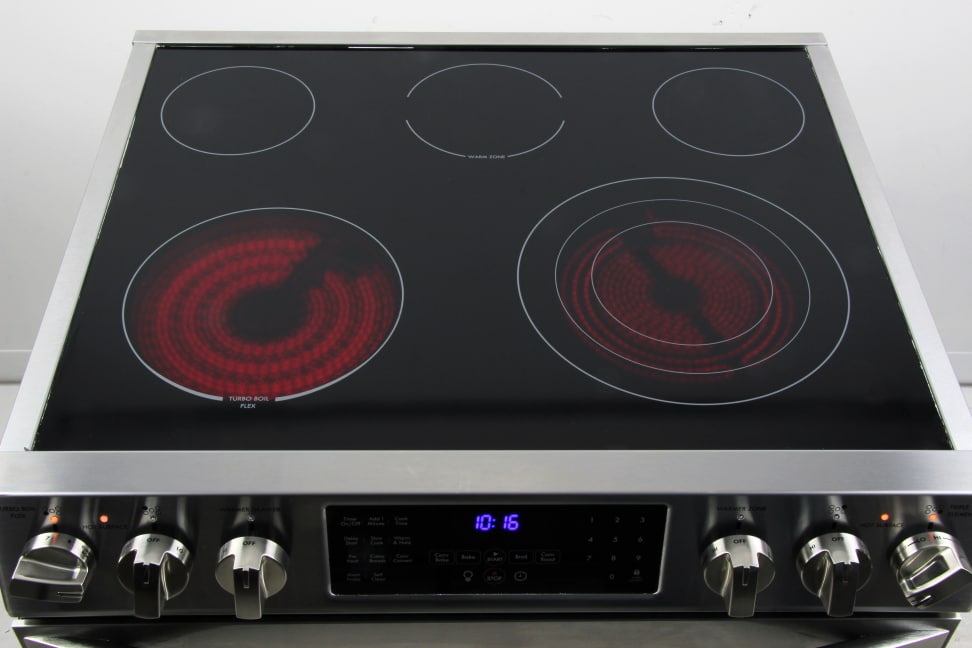 Now, back to that front left burner: Kenmore describes it as a "Turbo Boil Flex Burner" capable of quick boils and low simmers. However, 3,200W of power pushes its max temp uncomfortably high, peaking at a scalding 746°F during our 5-minute test. Generally speaking, you won't need to cook at heats this high, so exercise caution—and maybe keep your stir fry on the other burners.
That said, the front left burner is also capable of reaching an exceedingly low minimum temp of 78°F, which makes it the burner for simmering soup or softening butter. You can't do much cooking at 78°F, but it proves just how phenomenally wide this burner's temperature range is.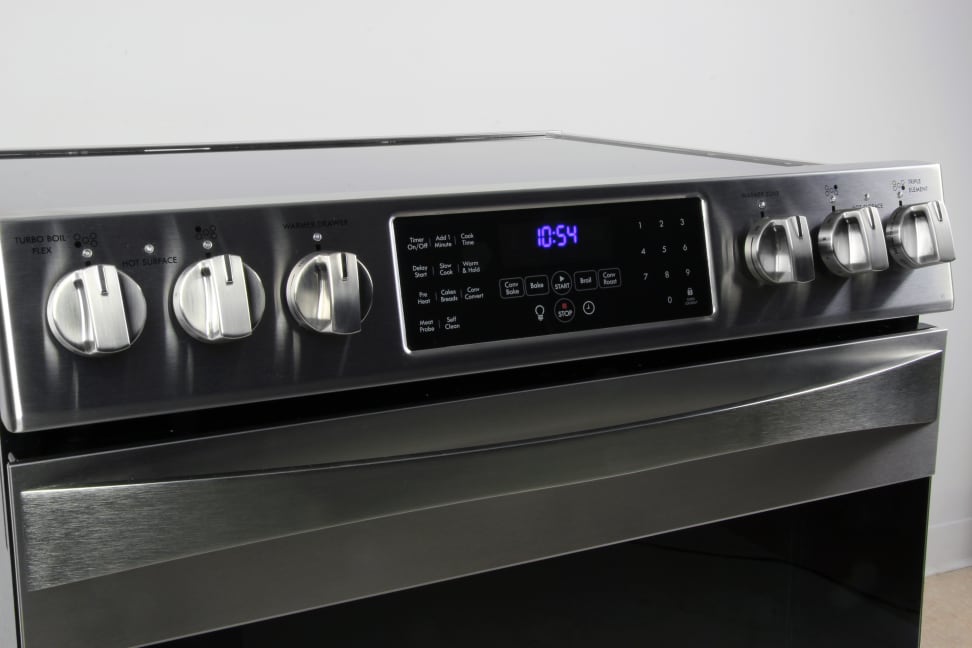 We were impressed with low temperatures on the other burners as well, which fell within a more useful spread of 105°F to 151°F. Take your pick—they're all good for simmering sauces and melting chocolate.
Unsurprisingly, the versatile front left burner was great at rapidly boiling water, heating six cups in just over five minutes. But it was only the second-fastest burner on the range, with the front right burner's outer ring heating the same amount of water in just three and a half minutes.
You'll want to avoid the slow rear burners when boiling, but how often do you need to boil two pots at once? The 41313 provides two speedy burners, as well as extreme heat and gentle lows—that's pretty much all you need for rangetop cooking.
Oven, Broiler, & Convection
A mixed bag
The good news: The 41313's oven has dual convection fans for even baking, and we found no major performance issues in our tests. The bad news: 4.6 cu. ft. is on the small side for ovens today, and the 41313's competitors are as large as 5.8 cu. ft.
During testing, the standard bake setting produced cookies with pale tops and golden bottoms, a variation in browning that was repeated in every cookie on the baking sheet. Cakes varied more noticeably depending on their location in the oven.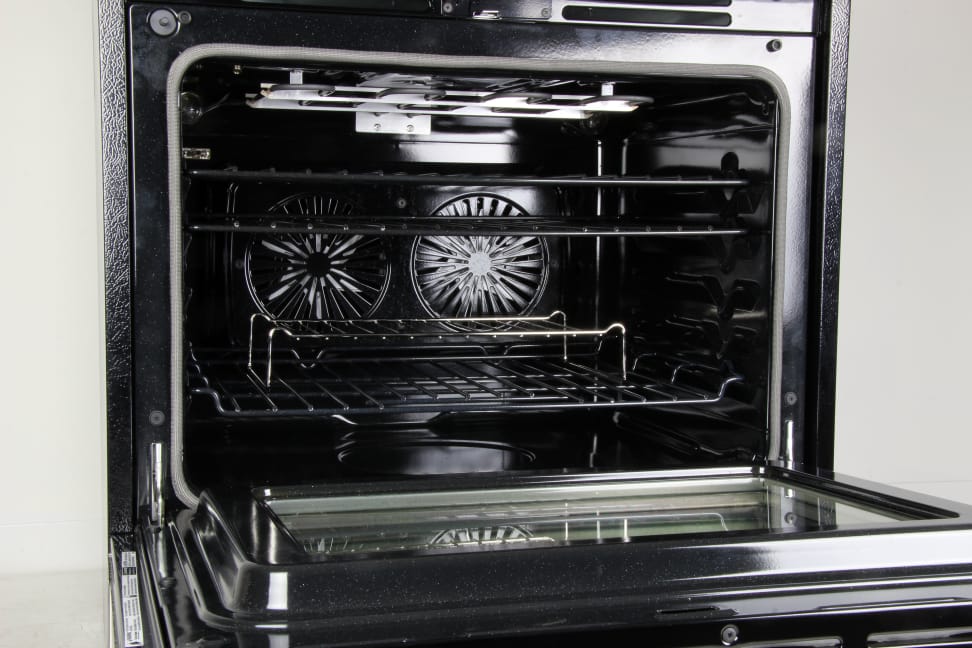 The 41313's dual true convection system really improved the quality of the already-excellent cookie results, but did less for cakes. Cookies displayed near-perfect evenness uniformly across the baking sheet. Individual cakes browned slightly less evenly than in the standard bake setting, though variation was slightly more consistent compared to the regular Bake mode.
Neither of these changes are significant enough to make a huge difference, so if you're baking an item for a longer period of time, you may want to consider turning your pan 180° halfway through baking to counteract the left-to-right unevenness.
We tried roasting a pork loin using both the Bake and Convection Roast settings. Standard Bake produced a moist roast that cooked through quickly, but browned very unevenly. Convection Roast produced exceedingly dry pork, but it cooked through about as quickly as the roast we made using the Bake setting, and it was far more evenly browned on the outside. Convection may have produced a prettier product, but who wants to eat dry pork?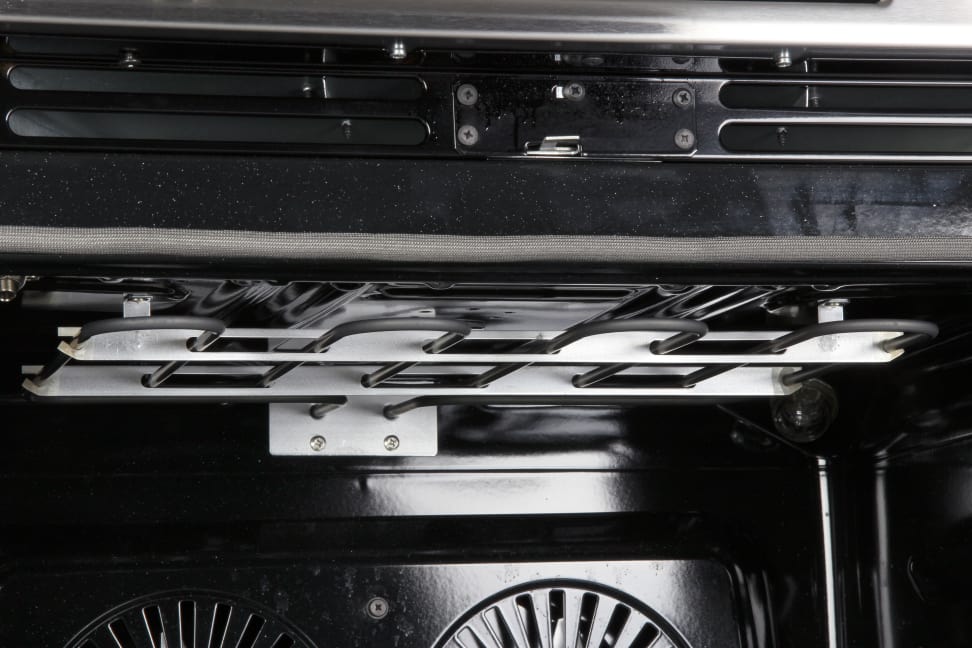 The broiler's preheat was impressive, reaching 604°F in just under five minutes. The time it took to preheat the entire cavity to 350°F was less impressive, but not bad: You'll have to wait almost 11 minutes using the standard bake setting, and two minutes longer if you're using convection.
Warranty
Kenmore offers a 1-year limited warranty for this range. For one year from the time of purchase, Kenmore will offer repairs or replacements to this range if it's found to be defective in material or workmanship. Just be sure to have a proof of sale handy.
Why We Like It
Tough competition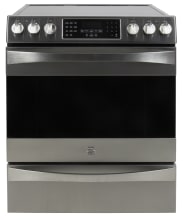 There's not much to dislike about the Kenmore Elite 41313. It's sleek, fairly speedy, and full of bake options. The oven has some issues with even heating but is capable of great things, while the rangetop puts sizzlingly high and astoundingly low temperatures within reach. Those are all the ingredients you need to create a great range—and cook a great meal.
So, why don't we love it? Unfortunately, its competitors are just as good, but cost far less. Unless Kenmore drops the price on the 41313, you should check out similarly styled ranges from LG and Samsung.
Our editors review and recommend products to help you buy the stuff you need. If you make a purchase by clicking one of our links, we may earn a small share of the revenue. Our picks and opinions are independent from any business incentives.
Our editors review and recommend products to help you buy the stuff you need. If you make a purchase by clicking one of our links, we may earn a small share of the revenue. Our picks and opinions are independent from any business incentives.
Advertisement - Continue Reading Below
Compare Prices
Our editors review and recommend products to help you buy the stuff you need. If you make a purchase by clicking one of our links, we may earn a small share of the revenue. Our picks and opinions are independent from any business incentives.
Get Our Newsletter
Real advice from real experts. Sign up for our newsletter
Thanks for signing up!