ovens
Kenmore Elite 95073 Freestanding Induction Range Review
An induction range that's positively magnetic.
$1,699.99 at Sears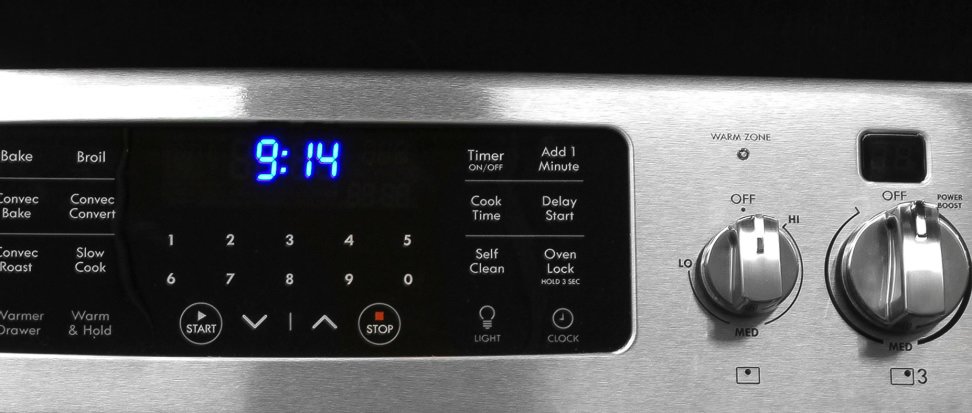 Not to gush, but we're big fans of the Kenmore Elite 95073 Freestanding Induction Range (MSRP $1,999.99).
Induction cooking surfaces, which use electromagnets to generate heat in a pot or pan, tend to be quite expensive, so it's nice to see an induction range at the somewhat lower retail price of $1563.99. Though the 95073 isn't cheap, we think it's a good value when you factor in the benefits of induction, such as speed, energy efficiency, and the fact that the "burners" themselves don't actually get hot.
For the everyday cook trying to get dinner on the table, this is a faster, safer stove than most. For the cooking enthusiast, temperature control is more responsive than gas or electric. The oven has some problems, but it should still do the trick for most meals as long as you aren't afraid of convection. All in all, this Kenmore is an above-average range that seems designed with the induction newbie in mind.
Design & Usability
Simple design fit for complicated cooking
It may not be the pinnacle of inspired design, but the stainless steel and clean lines of this range are more minimalist than boring. The sleek black rangetop features four differently-sized induction cooking zones marked with bold "x" shapes, along with a central keep-warm area that uses traditional radiant heat.
Rangetop controls are located on the backsplash. Since they require users to reach over potentially hot cookware to adjust them, we prefer front-mounted knobs. The simple knobs are topped by digital displays that provide additional information about heat and power levels for each cooking zone — a thoughtful choice that may prove useful for those who are new to induction cooking.
While fairly basic, the Kenmore 95073 still boasts a handful of nifty features, such as a warming drawer with humidity control to keep your food from drying out and an option to save frequently used bake times and temperatures. Still, what you're really paying for here is the strikingly fast induction cooking experience. The design may look familiar and functional, but you'll have to take the rangetop for a spin in order to see where it really shines.
Rangetop
Faster than a speeding... gas stove
Ah, the star of the show. Induction rangetops tend to perform admirably in our testing, and this one didn't disappoint, with lightning-fast boil times and great heat distribution. The front burners earned a standing ovation, boiling six cups of water in less than three minutes. The back burners took longer, with the right rear burner especially lagging around the ten-minute mark. The Whirlpool WFI910H0AS Induction Range has a quicker rangetop, with nary a burner taking more than five minutes to hit the boiling point, but the Kenmore 95073 received a better all-around rating. Besides, who needs to boil four things at once?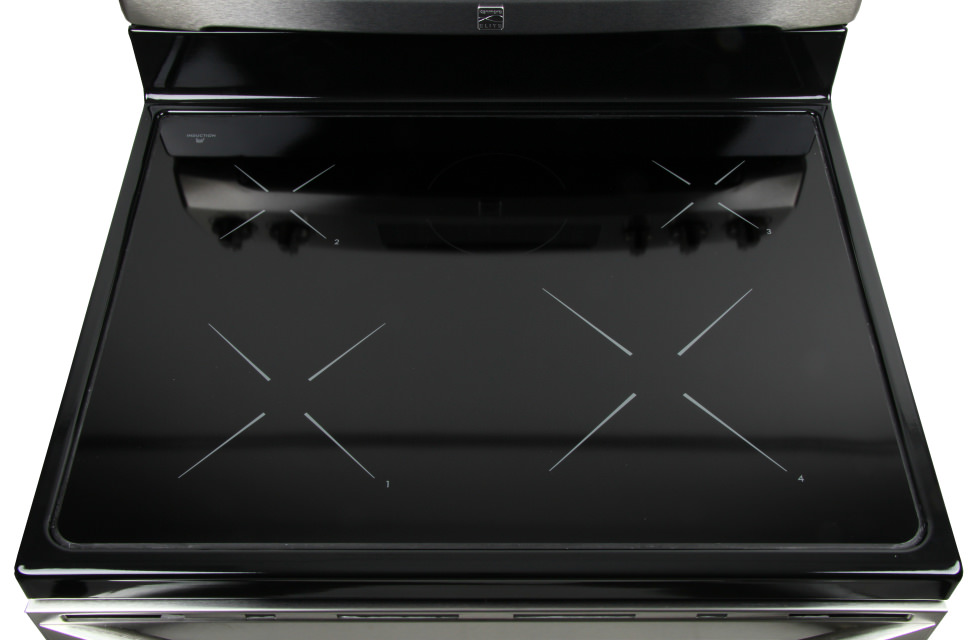 Each cooking zone aced our heat distribution tests, hitting temperatures as low as 89°F and as high as 720°F. It's worth noting that the burners automatically throttle down to the mid-600°s once they hit around 700°F, which is great for those who like to sear - but not burn - their dinner.
Like all induction rangetops, the 95073 requires cookware that a magnet will stick to, but with this level of responsiveness and energy efficiency, we can't imagine you'd miss your old pots and pans. And hey, if you aren't used to the quick cooking speeds, not to fear - the rangetop's keep-warm area will maintain the heat of your gravy until the roast is done.
Comparable Products
Before you buy the Kenmore Elite 95073, take a look at these other induction range tops.
Oven, Broiler, & Convection
Stick to convection and you won't be disappointed.
The rangetop had us starstruck, but we weren't as wowed by the supporting cast beneath the powerful cooking surface. The spacious 6.1 cubic-foot oven started strong with a lightning-fast preheat. However, it strayed significantly from our target temperatures. Its fairly good precision at low temperatures proved shaky when we set the oven to 350°F.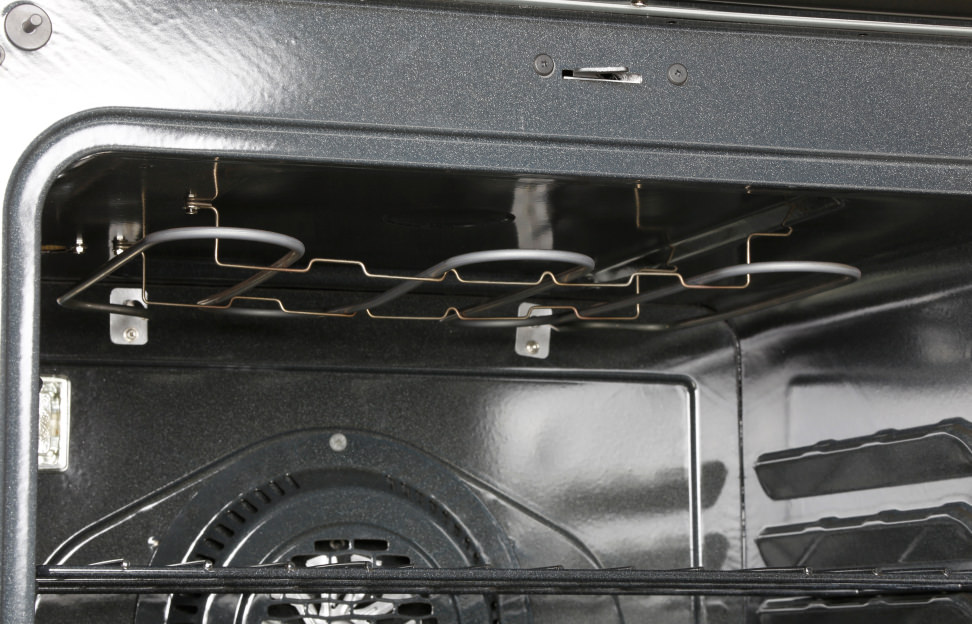 The broiler earned high marks for its quick ascent to 600°F, and we found the standard oven settings ideal for hitting and maintaining intended temperatures, turning out near-perfect cakes. Our cookie tests left something to be desired. Sugar cookies emerged from the oven with overly dark bottoms, a problem that could perhaps be remedied by using parchment paper instead of greasing the pan, or by placing the cookies on a higher oven rack.
Overall, the oven isn't at all awful, but serious bakers could find it wanting. We'd recommend taking the time to understand its quirks and how best to remedy them.
The oven also boasts a Self Clean setting that can be set for any amount of time between two and four hours, and easy-to-clean porcelain-coated racks.
Conclusion
A good value if you want to try induction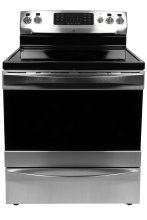 We'll be straight with you - there are cheaper ranges and better ovens to be had than the Kenmore 95073. But if you're keen to try induction, it will be hard to find a better option at this price point.
Frequent sales bring prices down to around $1,560. That's only a few hundred more than you'd pay for a similar gas or electric range, and this induction model offers so much more.
If you're more inclined towards electric or gas, you'll have to sacrifice the under-three-minute boiling times that made this oven such a standout. We'd recommend that those seeking a range with a stellar cooktop consider the Kenmore 95073–so long as they aren't serious bakers.
Our editors review and recommend products to help you buy the stuff you need. If you make a purchase by clicking one of our links, we may earn a small share of the revenue. Our picks and opinions are independent from any business incentives.