ovens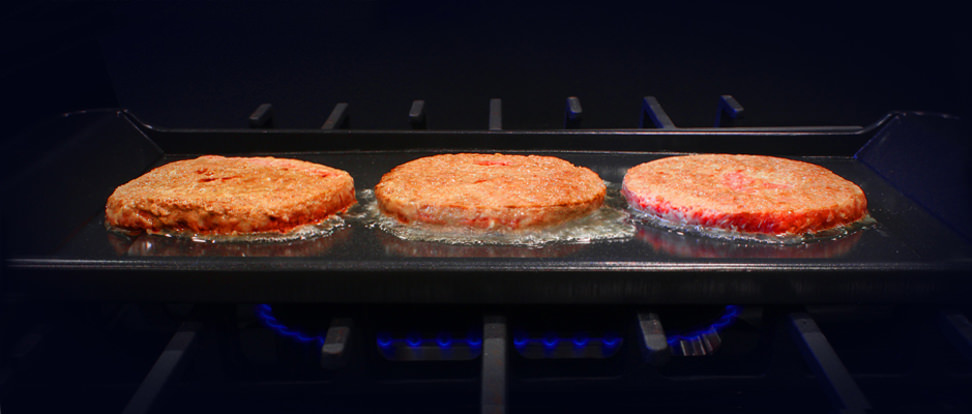 The Samsung NX58F5500SS (MSRP $1,049.00) 30-inch freestanding gas range is a solid, conservative appliance. The design and controls are unremarkable, but the appliance is not without its charms. The large 5.8 oven capacity and storage drawer are a boon for large families with limited space, and the center oval burner with custom griddle attachment may make for better breakfasts. While the gas rangetop was better than most of its ilk, the oven disappointed us with imprecise settings and temperature inconsistencies throughout the cavity.
Design & Usability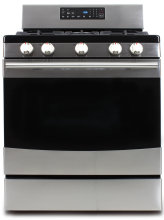 Bake, broil, chicken nugget. You know, the usual...
The NX58F5500SS doesn't rewrite the rulebook when it comes to design and control, and it features pretty much everything you expect from an appliance in its price range. The oven controls are pretty basic, offering little more than the usual Bake, Broil, Keep Warm and Timer settings. There is the welcome addition of a Favorite Cook setting for fussy chefs, as well as the unwelcome addition of a Chicken Nugget setting. Now, we aren't saying we dislike Chicken Nuggets—we just don't think they deserve a dedicated oven setting, over, say, frozen pizza.
Predictably for a gas rangetop, the NX58F5500SS's burners are controlled with physical dials located above the oven door. The controls are removable but not dishwasher safe, so bear that in mind when you clean your rangetop. Along with the standard four-burner layout, the range also includes a center oval-shaped burner, perfect for larger pots and pans. The range also ships with a griddle pan custom designed for the center burner. It's perfect for burgers and breakfasts.
Rangetop
Good for a gas range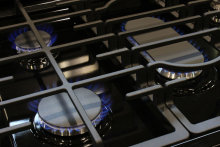 Anyone who has used one is familiar with the benefits—and shortcomings—of a gas cooktop. Gas offers a clear visual indicator of flame strength and size, and it also responds immediately to adjustment. On the other hand, gas tends to have a narrower range of temperatures when compared with electric and induction powered cooktops. Case in point: the NX58F5500SS, which suffers from many of the same inherent shortcomings as other gas rangetops. In particular, the maximum temperatures could be best described as medium temperatures. We recorded a high temperature of only 430ºF from the primary burner: sufficient for searing a steak, but only just. Fortunately, when it comes to the lower temperatures required for simmering and melting butter, the NX58F5500SS rises to the occasion. We recorded an impressive 120ºF from the simmer burner.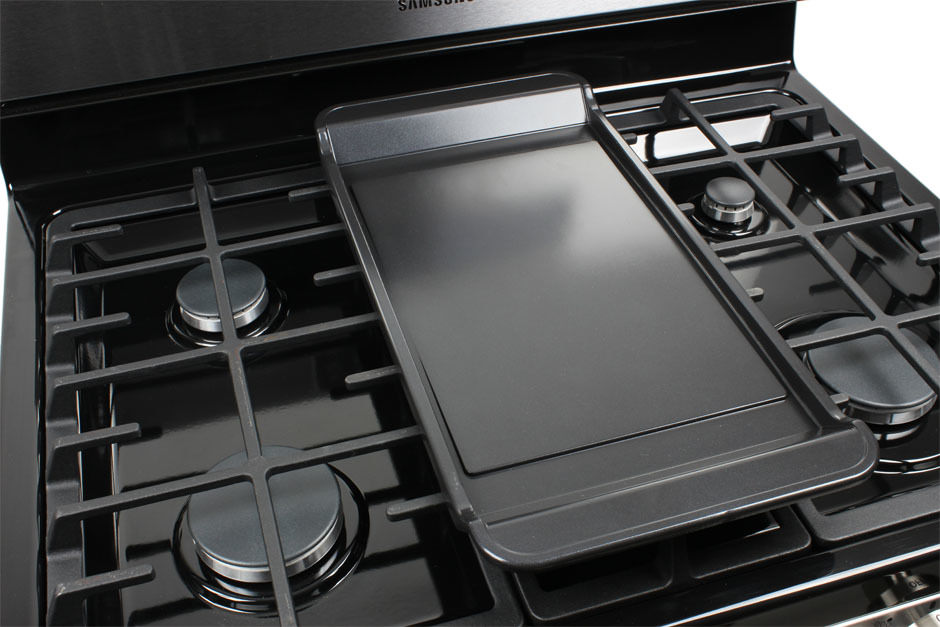 When viewed as a collective, the NX58F5500SS's burners offered only average water boiling performance, with an average time of 15 minutes to boil six cups of water. However, if you plan on whipping up some pasta, the primary burner should be your first choice: it boiled six cups of water in only four minutes. This is an impressive result when compared to induction burners, which take around three minutes for the same amount of water.
Comparable Products
Before you buy the Samsung NX58F5500SS, take a look at these other ranges.
Oven, Broiler, & Convection
Imprecise and inconsistent temperatures do this oven no favors.
Similar to the rangetop, the NX58F5500SS's oven varied between average and amazing. The preheat was one of the fastest we have seen (at least from a gas oven), taking a staggering five minutes to reach 350ºF. Sadly, the broiler failed to keep pace, with a sluggish nine minute preheat.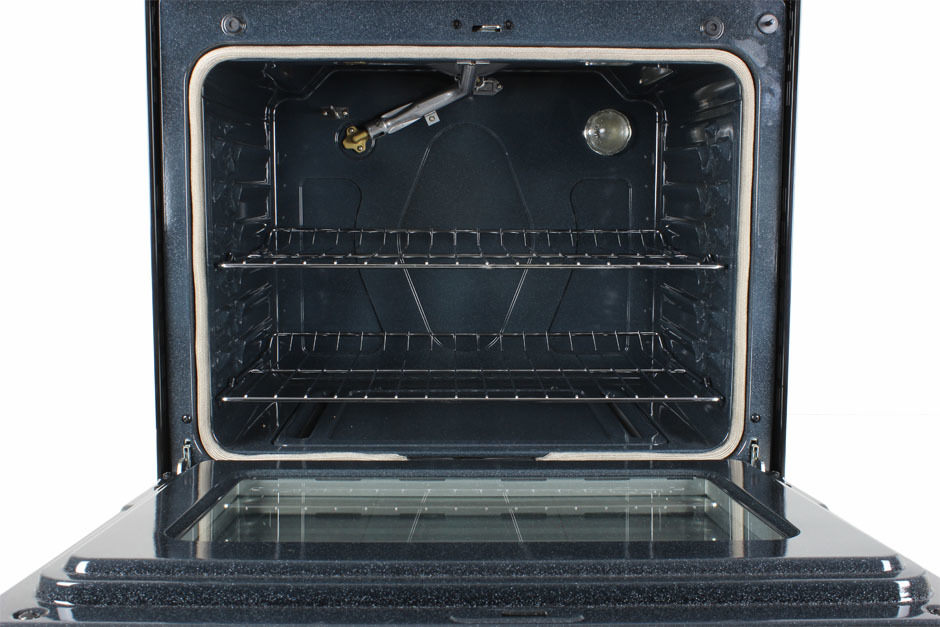 The oven itself was amazingly accurate, but also alarmingly imprecise. Although the Keep Warm and 350ºF settings hit the correct temperatures (150ºF and 350ºF) multiple times, the oven struggled to maintain those temperatures for any length of time. During our tests, the mercury rose and fell more times than the weather changes on an average day in New England. Attempting to cook food (cakes and cookies) in the NX58F5500SS revealed not only hot and cold spots throughout the oven cavity, but also temperature inconsistencies in the oven center. Luckily, our cakes and cookies, while unevenly cooked, were hardly ever over-cooked, suggesting at the very least that your food won't burn.
Before You Buy
Despite some bright sparks, the oven's uneven.
The Samsung NX58F5500SS offers only incremental advantages over a budget or entry-level oven range, and it would be a good choice for those looking for a minor upgrade over their well-used builder's package appliances. While the price seems to be attractive, the shortcomings in the oven's performance mean that what you save in cash you may end up paying in frustration or, at the very least, unevenly cooked food.
Our editors review and recommend products to help you buy the stuff you need. If you make a purchase by clicking one of our links, we may earn a small share of the revenue. Our picks and opinions are independent from any business incentives.