ovens
Whirlpool WGE755C0BS Double Oven Electric Range Review
This double-oven range is solid.
$1,529.99 at Best Buy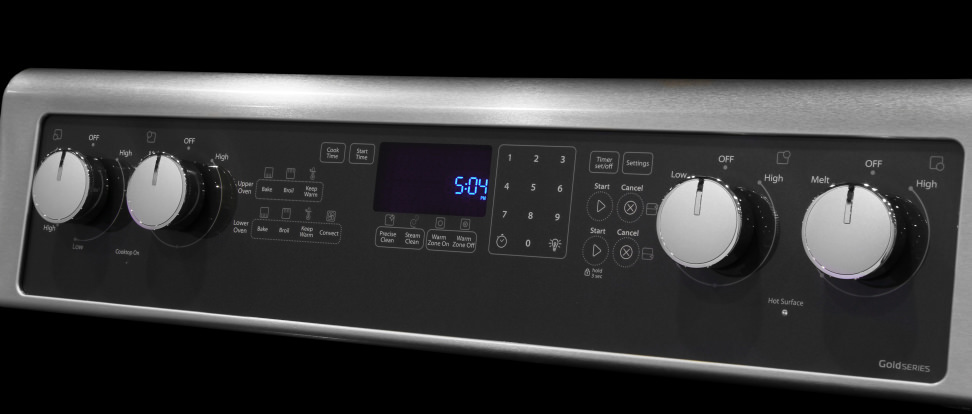 In an age of abundance, it can be good to reflect on how much is too much. How many appliance reviewers does it take to screw in a lightbulb? How many licks does it take to get to the center of a Tootsie Pop? And how many ovens does a kitchen need?
If your answer to that last question is "more than one," you might be in the market for the Whirlpool WGE755C0BS Double Oven Electric Range (MSRP $1,749), which will fit a big roast, but can cook it at the same time as a side dishes.
Yes, there are other double-oven ranges out there, but this Whirlpool is a class above. Beyond space efficiency, it sports basic good looks, features like convection, and a reasonable sale price around $1,530. It's not fancy, but we especially appreciated its stellar rangetop and lower oven.
Design & Usability
All the basics and plenty of space
Ranges are typically boxy in shape, but there's something particularly sharp and angular about the WGE755C0BS. It's more simple than edgy, but clean lines give it a sleek look.
The black, ceramic glass cooking surface features a dual-ring burner, three regular burners, and a rear central warming zone. Raised rangetop edges protect your kitchen floor from boiled-over sauce or pooled bacon grease. The only major design flaw is that the rangetop control dials are set on the backsplash, a location we disapprove of whenever we have to reach over hot cookware to adjust a burner's temperature.
Below, a 2.5 cubic foot upper oven and 4.2 cubic foot lower oven lie stacked on top of one another. That's a lot of space in total, even if the smaller oven seems positively miniature.
Oven controls are located on the back of the range and stick to the basics feature-wise. Want to bake, convection bake, keep warm, or broil? The WGE755C0BS has you covered. But bread proof, slow cook, and chicken nugget settings are absent. If those are important to you, you might want to go for the similarly-priced Frigidaire FGEF306TMF electric dual oven range instead, which boasts the ever-important chicken nugget and pizza settings, plus two ovens of equal size.
Happily, both of the WGE755C0BS's ovens do house a broiler, as well as the Precise Clean self-cleaning system, which saves energy by timing its cycles to be as short as possible while still cleaning an optimal amount. There is also a steam clean option, in case self cleaning is too hot for you.
Rangetop
High or low, this rangetop brings the right amount of heat
This rangetop is a joy to use. With all elements engaged, the front burners sped through our boiling tests, each bringing six cups of water to a boil in less than five and a half minutes—perfect for those times you want to simultaneously poach salmon and boil asparagus!
The WGE755C0BS hit it out of the park as far as maximum temps are concerned. While the left rear burner's style is more about simmering, the remaining burners hit temperatures ranging from 485°F to a sweltering 787°F. Sear away, brave cooks! This rangetop can handle it.
Low temperature cooking is also a wonderful option on this rangetop, as three burners can dip to temperatures below 100°F. Soups and sauces shouldn't be a problem on the WGE755C0BS.
Comparable Products
Before you buy the Whirlpool WGE755C0BS, take a look at these other ranges.
Oven, Broiler, & Convection
These twin ovens aren't identical, and neither are their performances.
The WGE755C0BS sports two ovens. Both feature broilers, but only the bottom oven features true convection with an additional fan-based heating element. The lower oven produced foods that were beautifully baked, with perfect cookies across the baking sheet and cakes that were evenly browned. We'd put the Thanksgiving turkey down here.
We'd recommend the bottom oven for more complex recipes, as the top oven had difficulty in our food bake tests. Sugar cookies emerged with significantly darker bottoms than tops. Just how brown depended on where each cookie was placed inside the cavity. Cakes fared slightly better. Yes, they came out unevenly baked, but at least they were consistent in their unevenness.
Those hot and cold spots are indicative of poor air flow and inconsistent radiant heat across the cavity. We'd recommend turning your pan halfway through baking to make things a bit more even, but only if you must use the top oven for baking. It may be better-suited for easier jobs like reheating side dishes or roasting veggies. If you use it as a broiler, be prepared to wait 11 minutes for it to preheat.
Conclusion
Whirlpool gets it right.
We'll give this range an enthusiastic nod of approval. It's tricky to get things right when putting two ovens in a single range, but Whirlpool's WGE755C0BS is a great product. Retailing around $1,525, it's also a great value—especially when you factor in its two ovens and quietly-stylish stainless steel finish.
The fantastic rangetop is capable of reaching blistering highs and gentle lows, and two of the burners can boil water extremely quickly. The top oven isn't perfect but the lower oven turned out really excellent cakes and cookies. We'd recommend it for home cooks of any ability.
Our editors review and recommend products to help you buy the stuff you need. If you make a purchase by clicking one of our links, we may earn a small share of the revenue. Our picks and opinions are independent from any business incentives.